JULY 14: Curry's contract with the Mavericks is now official, per the team (Twitter link).
---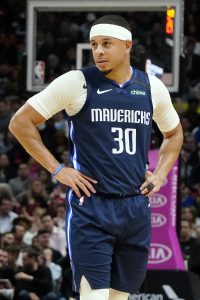 JUNE 30: Former Nets combo guard Seth Curry is inking a new two-year contract to return to the Mavericks, CAA agent Austin Brown informs Adrian Wojnarowski of ESPN (Twitter link).
Per Tim MacMahon of ESPN, Curry will join Dallas' roster via the team's $4.5MM biannual exception.
It represents a reunion with the Duke alum's former 2022/23 Brooklyn teammate All-Star point guard Kyrie Irving.
Across his 61 contests for Brooklyn last season, Curry – a 6'2″ combo guard – averaged 9.2 PPG on excellent .463/.405/.927 shooting splits, along with 1.6 RPG and 1.6 APG.
The 32-year-old, a career 43.5% three-point shooter, will help stretch the floor around Dallas' All-Star backcourt of Irving and Luka Doncic.
This agreement with Curry will now hard-cap the Mavericks at the $172.3MM first tax apron, per Yossi Gozlan of HoopsHype (via Twitter). The club is currently about $9MM below the luxury tax line and $16MM below that hard cap.
If Dallas, which finished as the No. 11 seed in the West last season, wants to use the full $12.4MM mid-level exception to sign another rotation player this summer, the team will need to shed a little salary, Gozlan adds.
This actually marks Curry's third separate run with the Mavs. He previously played for the club in 2016/17, prior to Doncic's arrival, and in 2019/20, alongside Doncic. In a journeyman decade-long NBA career thus far, Curry has also played for the Grizzlies, Cavaliers, Suns, Kings, Trail Blazers, and Sixers.