The Sixers are guaranteeing De'Anthony Melton's full salary for next season, league sources tell Michael Scotto of HoopsHype (Twitter link).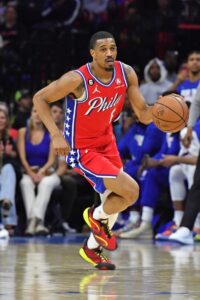 Melton's 2023/24 salary was previously partially guaranteed at $1.5MM, but he will earn his full $8MM in 2023/24, according to Scotto. His early salary guarantee date is today, as our tracker shows.
A 6'2″ combo guard, Melton was the 46th overall pick of the 2018 draft out of USC. He spent his rookie season with the Suns before being traded to Memphis, where he spent the following three seasons.
The 76ers acquired Melton from the Grizzlies in draft-night deal last year. He had a solid debut season with Philadelphia in '22/23, averaging 10.1 PPG, 4.1 RPG, 2.6 APG and 1.6 SPG while shooting 39% from three-point range in 77 games (58 starts, 27.9 MPG).
The move was expected, as Melton has a team-friendly contract. Known as a strong, versatile defensive player, the 25-year-old is entering the final year of his deal.
Melton is eligible for a veteran extension that could pay him up to $75MM over four years, as Yossi Gozlan of HoopsHype tweets. However, it seems unlikely that the Sixers will rush to extend Melton, considering they're trying to preserve cap flexibility for next summer, Gozlan notes.