JULY 18: Nearly three weeks after initially agreeing to terms with the Spurs, Jones has officially signed his new contract, the club announced today in a press release. The deal will eat up the remainder of San Antonio's cap room, putting the team's salary over the cap.
---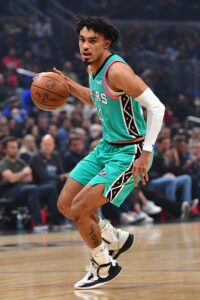 JUNE 30: Tre Jones is re-signing with the Spurs, having agreed to a two-year, $20MM contract, agent Kevin Bradbury tells ESPN's Adrian Wojnarowski (via Twitter).
Jones was a restricted free agent after San Antonio issued him a $5,216,324 qualifying offer. He didn't need to sign an offer sheet from a rival team to nearly double that figure.
The 41st overall pick of the 2020 draft, the former Duke point guard has spent his entire pro career with the Spurs. He played sparingly as a rookie, had a regular bench role in 2021/22, and emerged as a full-time starter in '22/23 after the club traded Dejounte Murray to Atlanta last summer.
In 68 games last season (29.2 MPG), Jones averaged 12.9 PPG, 6.6 APG, 3.6 RPG and 1.3 SPG on .459/.285/.860 shooting. I'm sure he'd like to boost that three-point percentage, but Jones provides value in other areas, including solid play-making while taking excellent care of the ball — he posted a 4.1-to-1 assist-to-turnover ratio in '22/23.
Still just 23 years old, Jones will hit unrestricted free agency in a couple years when he's 25.