The Suns are the favorites to sign Bol Bol, according to Shams Charania of The Athletic (Twitter link), who says rival teams are expecting the free agent big man to land in Phoenix.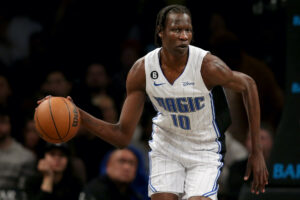 A former second-round pick, Bol hit waivers on Tuesday, with Orlando opting to move on from him before his salary for 2023/24 became guaranteed. He cleared waivers on Thursday and became a free agent, allowing him to join any team.
Bol's unique skill set for his slender 7'2″ frame – including an ability to handle the ball – has long intrigued teams and fans, but he was limited to 53 games in Denver during his first three years in the NBA due to injuries. He enjoyed his best season in 2022/23, staying on the floor for 70 games and averaging 9.1 points, 5.8 rebounds, and 1.2 blocks in 21.5 minutes per night.
While Bol's overall numbers were solid, it was a tale of two seasons for the former second-round pick. He put up 11.9 PPG, 6.8 RPG, and 1.6 BPG with an impressive .584/.361/.740 shooting line in his first 41 appearances. In his final 29 games, his playing time and shooting efficiency dropped off, as he scored double-digit points just three times and had averages of 5.1 PPG, 4.3 RPG, and 0.7 BPG on .447/.098/.806 shooting.
Once Josh Okogie's deal is official, Phoenix will have 15 players on standard contracts, not counting Bol. However, Jordan Goodwin only has a small partial guarantee, while Ish Wainright is on a non-guaranteed deal, so the team has some roster flexibility. The club would only be able to offer Bol a minimum-salary contract.
The Suns' interest in Bol was previously reported by both Marc Stein and John Gambadoro.