JULY 6: The Wizards and Pistons have officially completed the Morris trade, according to press releases from both teams. Washington will receive either the Nets' or Mavericks' 2027 second-round pick (whichever is more favorable).
---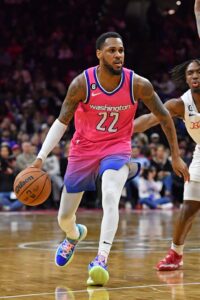 JUNE 30: The Wizards and Pistons have agreed to a trade that will send point guard Monte Morris to Detroit, sources tell Shams Charania of The Athletic (Twitter link).
According to Omari Sankofa of The Detroit Free Press (Twitter link), Washington will acquire a future second-round pick in exchange for Morris. No other players will be involved in the swap, Sankofa adds.
Josh Robbins of The Athletic reports (via Twitter) that the pick will be a 2027 second-rounder. The Wizards will also create a $9.8MM trade exception — equivalent to Morris' salary — as part of the deal, per Robbins.
As Yossi Gozlan of HoopsHype tweets, the Wizards are facing a roster crunch, particularly in the backcourt. Moving Morris helps address both of those issues. The Wizards now have 16 players under contract and have multiple mid-sized trade exceptions after previously dealing away Bradley Beal and Kristaps Porzingis, Gozlan notes.
Morris' contract will be absorbed into Detroit's remaining cap room and the deal will be completed July 6, per ESPN's Bobby Marks (Twitter link). The Pistons still have the $7.8MM room exception to work with, says Marks, who adds that the Wizards are $30.5MM below the luxury tax line.
A former second-round pick and Michigan native, Morris spent his first five seasons with the Nuggets before being traded to the Wizards last summer. The 28-year-old had a solid first season with Washington in 2022/23, averaging 10.3 points, 5.3 assists and 3.4 rebounds on .480/.382/.831 shooting in 62 games (61 starts, 27.3 minutes).
Morris, who has been one of the league's best at taking care of the ball throughout his career, including a 5.3-to-1 assist-to-turnover ratio last season, is ideally used as a backup, because he's not a great defensive player. His measured, efficient approach should mesh well with a young Pistons team looking to take the next step in their rebuild.
Morris is entering the final year of his contract, which explains, to some extent, the limited return the Wizards received in the deal. The fact that they were able to shed his salary without taking any on themselves must have held some appeal as well.