3:35pm: The signing is official, according to NBA.com's transaction log.
---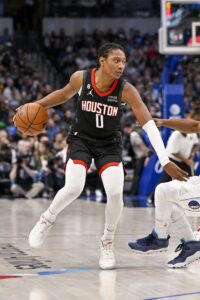 2:29pm: The Bucks have agreed to sign free agent guard TyTy Washington Jr. to a two-way contract, reports Shams Charania of The Athletic (Twitter link).
The 29th overall pick in the 2022 draft, Washington spent his rookie year with the Rockets, then was included as a salary-matching piece in the five-team deal that landed Dillon Brooks in Houston via sign-and-trade in July. The 21-year-old was sent to Atlanta in that trade before being flipped to Oklahoma City in a salary-dump deal that made Patty Mills a Hawk. The Thunder, facing a roster crunch, waived Washington earlier this month.
Washington appeared in 31 games with the Rockets in his first NBA season, averaging 4.7 points, 1.5 assists, and 1.5 rebounds in 14.0 minutes per night. He put up an underwhelming shooting line of .363/.238/.556 in those 31 games.
The former Kentucky standout was more effective at the G League level, averaging 23.0 PPG, 6.0 APG, and 4.6 RPG in 18 Showcase Cup and regular season games for the Rio Grande Valley Vipers. However, he still struggled to score efficiently, making 44.2% of his shot attempts from the field and just 31.7% from beyond the three-point line.
The Bucks, who don't have much point guard depth behind starter Jrue Holiday, will give Washington a shot on a two-way deal that allows him to be active for up to 50 regular season games. Milwaukee would need to promote him to the standard roster in order to have him active for more than 50 games or for the postseason.
[RELATED: Hoops Rumors Glossary: Two-Way Contract]
Washington will earn $559,782 on his two-way pact, assuming he remains under contract through the league-wide guarantee date in January. No roster move will be necessary for the Bucks to sign him, since they're only carrying two players (Omari Moore and Lindell Wigginton) on two-way deals, leaving one spot open.