Bucks superstar Giannis Antetokounmpo recently sat down for an honest, insightful interview with Tania Ganguli of The New York Times, which is worth reading in full for any NBA fan.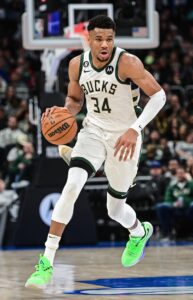 As Ganguli writes, the two-time MVP is eligible for a three-year extension in a few weeks, worth a projected $173MM. However, Antetokounmpo has no intention of inking a new deal before the 2023/24 season starts — as he notes, he could make more money if he waits until next offseason, but that certainly doesn't sound like a lock, either.
"The real question's not going to be this year — numbers wise it doesn't make sense," Antetokounmpo said. "But next year, next summer it would make more sense for both parties. Even then, I don't know. … I would not be the best version of myself if I don't know that everybody's on the same page, everybody's going for a championship, everybody's going to sacrifice time away from their family like I do. And if I don't feel that, I'm not signing."
The 28-year-old is technically under contract through '25/26, but that final season is a player option. He will make a guaranteed $94.4MM over the next two seasons, and could hit free agency in 2025.
Interestingly, Antetokounmpo says he considered walking away from basketball during the '20/21 campaign. He had lost his joy for the game, according to Ganguli, but rediscovered it with the help of his older brother and teammate, Thanasis Antetokounmpo, as well as the assistance of a sports psychologist. The season culminated in Milwaukee's second NBA championship, 50 years removed from the first.
"I think it's the best feeling that I've felt so far in basketball," Giannis told Ganguli.
In an ideal world, the seven-time All-NBA big man would like to spend his entire career with the Bucks. He has a goal of playing 20 seasons, and he's halfway there.
"But at the end of the day, being a winner, it's over that goal," Antetokounmpo said. "Winning a championship comes first. I don't want to be 20 years on the same team and don't win another championship."