The Hawks have been the strongest suitor to date for star forward Pascal Siakam, according to Shams Charania of The Athletic, who reports that Atlanta has offered the Raptors a package that includes forward De'Andre Hunter, swingman AJ Griffin, and draft compensation in exchange for Siakam.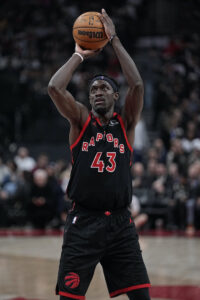 The Raptors have resisted the Hawks' overtures and are "believed to have upped the price on any possible deal at each turn," Charania says.
As Charania outlines in his story, it has become increasingly rare for a player of Siakam's caliber to enter a contract year without some sort of clarity on his long-term future. However, he and the Raptors have yet to seriously engage in negotiations on a potential contract extension, and the 29-year-old also hasn't requested a trade, sources tell The Athletic.
Siakam has been considered a trade candidate since well before February's deadline due to his contract situation and his positional and skill-set overlap with rising star Scottie Barnes, the 2022 Rookie of the Year.
Charania suggests that Siakam's trade value has been limited to some extent by the fact that the two-time All-NBA forward has privately expressed a desire to remain in Toronto and an unwillingness to sign an extension with any team that acquires him.
Siakam is currently eligible for a maximum-salary extension worth up to 30% of the cap — earning another All-NBA nod in 2024 would make him eligible for a super-max contract that starts at 35% of the cap, but he would only be able to sign such a deal with the Raptors. A trade would make him ineligible for a super-max contract.
Atlanta isn't the only club to express interest in Siakam, Charania notes, but it doesn't appear that any other suitor has made significant headway with the Raptors. The Pacers are among the other clubs previously reported to be interested.
For what it's worth, the Hawks' offer for Siakam as described by Charania appears incomplete, since Hunter's and Griffin's combined salaries ($23.8MM) wouldn't be nearly enough to match Siakam's $37.9MM cap hit for 2023/24.
There has been some chatter about the possibility of Atlanta sending Clint Capela ($20.6MM) to a third team – like the Mavericks – as part of a trade for Siakam, but such a structure would require that third team to send at least one player to Toronto. Dallas doesn't have a big expiring contract to close that salary gap and would likely have to include some combination of Tim Hardaway Jr. ($17.9MM), Richaun Holmes ($12MM), and JaVale McGee ($5.7MM), each of whom has two years left on his respective deal.
As for the Hawks' movable draft assets, they owe two of their own future first-round picks to San Antonio as part of the Dejounte Murray trade, but they could offer Sacramento's lottery-protected 2024 first-rounder as well as their own first-rounder in either 2029 or 2030.
For now, trade talks between Toronto and Atlanta are "at a complete pause," according to Charania, who says the Hawks are "fully prepared" to enter the 2023/24 season with their current roster.