AUGUST 6: Davis' new three-year extension is now official, the Lakers announced (Twitter link via ESPN's Dave McMenamin). According to Michael Scotto of HoopsHype, the final year is a player option (Twitter link).
---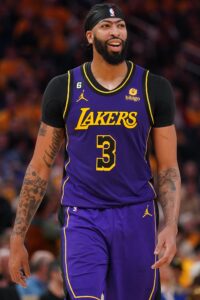 AUGUST 4: The Lakers and star big man Anthony Davis are in agreement on a three-year, maximum-salary contract extension, agent Rich Paul tells Adrian Wojnarowski of ESPN. The two sides wasted little time in reaching a deal after Davis became extension-eligible on Friday.
Although Wojnarowski refers to it as a $186MM extension, the exact value of the three-year contract won't be determined until June 2025. Davis will earn a starting salary worth 35% of the salary cap in 2025/26, with subsequent 8% annual raises.
As we outlined earlier today, in order for the deal to be worth $186MM, the cap would have to increase by the maximum allowable 10% in each of the next two seasons, reaching nearly $164.6MM by '25/26. That would be a best-case scenario, but the NBA is currently projecting more modest cap increases. If the cap is instead at $150MM in '25/26, for example, Davis' three-year deal would be worth about $170MM.
Either way, the long-term agreement – which was reached quickly and seemingly without any drama – is good news for both Davis and the Lakers, who are now tied to one another through the 2027/28 season.
Davis has shown a tendency in the past to take long-term guaranteed money when it's on the table rather than trying to maximize his earnings with shorter-term deals. He's sticking to that approach here, accepting a max extension offer when it's available rather than playing out the 2023/24 season in the hopes of signing a bigger deal as a free agent in 2024, when he would have been eligible to opt out of his current contract.
It's possible that accepting an extension now will cost him a little money in the long run, but for a player who has battled injuries throughout his career, it's hard to argue with the decision. Davis has been limited to 132 of 236 regular season games over the past three years and hasn't played more than 62 games in a season since 2017/18.
For the Lakers, meanwhile, it's a massive investment in a player who has Davis' injury history, but it's an investment that could pay dividends, given that the alternative may have been negotiating a maximum-salary free agent contract of up to five years in 2024.
By signing Davis to an extension now, Los Angeles ensures that he's locked into his current deal through the 2024/25 season, when he'll be earning a salary ($43.2MM) well below his potential maximum. The team also won't have to commit to him beyond 2028, when he'll be 35 years old.
And when healthy, Davis has continued to be one of the NBA's most dominant two-way stars. The 30-year-old averaged 25.9 points, 12.5 rebounds, 2.6 assists, and 2.0 blocks per game in 56 appearances (34.0 MPG) during the 2022/23 season, shooting 56.3% from the floor.
Davis is also an elite rim protector whose performance on that end of the court was a major factor the Lakers' run to the Western Conference Finals this spring. He ranked first in the postseason with 14.1 RPG and 3.1 BPG.
Davis will earn $40.6MM in 2023/24, so he's now in line to make up to approximately $270MM over the next five seasons if the cap continues to rise by 10% annually.
Davis and LeBron James have been the cornerstones of the Lakers over the last few seasons, including in the 2020 championship season. James' future with the team beyond the 2023/24 season remains up in the air, since he has the ability to opt out of his deal and – at 38 years old – has alluded to the possibility of retirement. But whether or not LeBron remains in Los Angeles for the long term, it appears the franchise is committed to building around Davis for the foreseeable future.