Cavaliers guard Ricky Rubio, the MVP of the 2019 FIBA World Cup, won't be participating in the 2023 World Cup this summer, announcing in a statement through the Spanish Basketball Federation (Twitter link) that he's taking a break from basketball to focus on his mental health.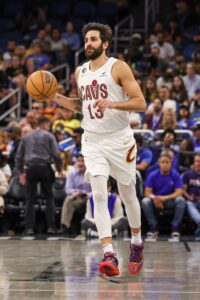 "I have decided to stop my professional activity to take care of my mental health," Rubio said. "I want to thank all the support I have received from the FEB (Federación Española de Baloncesto) to understand my decision. Today #LaFamilia makes more sense than ever. Thank you. I ask to respect my privacy to be able to face these moments and to be able to give more information when the time is right."
Rubio's Spanish teammates Willy Hernangomez, Rudy Fernandez and Sergio Llull were among those who took to social media to post messages in support of his decision, while Spain head coach Sergio Scariolo wrote in depth about Rubio.
"In La Familia, people have always come before results," Scariolo said. "All my love and support to Ricky, and my admiration for his transparency and, through it, his ability once again to lead by example."
The decision to release the news through the Spanish Basketball Federation – rather than the Cavaliers – suggests that, for now, Rubio's hiatus will only affect the national team. But with no timeline specified for his return to basketball, there's no guarantee he'll be available this fall for Cleveland. Of course, Rubio's mental well-being comes before basketball.
Rubio, 32, is a 12-year NBA veteran who has made 712 total appearances (614 starts) across the regular season and playoffs. The Spanish guard began his career as the fifth overall pick in the 2009 NBA draft by the Timberwolves. He stayed in Spain for a couple more seasons before suiting up for Minnesota in 2011. After departing the Wolves, Rubio made stops in Utah and Phoenix before rejoining the Timberwolves in 2020/21. Following that season, Rubio was acquired by Cleveland via trade.
The veteran guard hasn't yet played a full season with the Cavaliers. Rubio tore his ACL in December 2021 after appearing in 34 games for Cleveland and thus, wasn't able to make his '22/23 debut until January 2023.