SEPTEMBER 20: Marjanovic has officially re-signed with the Rockets, per NBA.com's transaction log. Marjanovic's deal reportedly features a partial guarantee.
---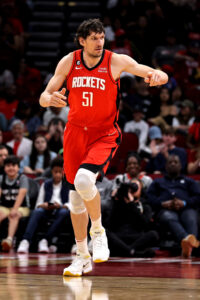 SEPTEMBER 10: Free agent big man Boban Marjanovic is returning to the Rockets on a one-year deal, Adrian Wojnarowski of ESPN tweets.
A longtime fan favorite, Marjanovic is entering his ninth NBA season. He started his NBA career in San Antonio and has also played for Detroit, the Los Angeles Clippers, Philadelphia and Dallas.
The 7'4" center appeared in 31 games off the bench last season for Houston, averaging 3.3 points and 1.9 rebounds in 5.5 minutes per game.
In 317 career regular-season appearances, Marjanovic has averaged 5.6 points and 3.6 rebounds in 8.9 minutes.
He actually had two stint with the Rockets last season. He was acquired last summer in a trade with Dallas.
The big man was waived during a roster crunch after the February trade deadline, then was re-signed after clearing waivers.
As our roster count shows, the Rockets had 17 players under contract — outside of their two-way players — but only 12 possessed guaranteed deals. The addition of Marjanovic gives them a full training camp roster.
It's safe to assume Marjanovic got the veteran's minimum, and it's unclear whether or not his deal will be fully guaranteed. He projects as the third center on the depth chart behind starter Alperen Sengun and Jock Landale.