SEPTEMBER 13: Green has officially signed with the Sixers, the team announced today in a press release.
---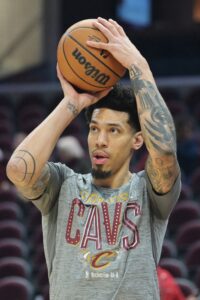 SEPTEMBER 5: Free agent wing Danny Green has agreed to a one-year deal with the Sixers, ESPN's Adrian Wojnarowski tweets.
Green gives the Sixers 20 players on their camp roster, including their reported camp deal with David Duke. The Sixers had 13 players with guaranteed deals — it's likely Green accepted a veteran's minimum contract, though it's uncertain whether he got a full guarantee.
Green finished last season with the Cavaliers after he was bought out by the Rockets. Green was sent from Memphis to Houston at the trade deadline as a salary-matching piece.
Green spent most of the season recovering from an ACL tear and didn't play at all until February 1. He averaged 14.3 minutes in three games with the Grizzlies and didn't suit up for the Rockets. Green, 36, played eight regular-season games for the Cavaliers and also appeared in four games during the postseason.
Green, of course, has a history in Philadelphia. He played for the Sixers during the 2020/21 season and part of the following year.
The career 40% 3-point shooter gives the Sixers another veteran wing option.