Rockets guard Kevin Porter Jr. was arrested in New York and charged with assault and strangulation, reports Jonathan Feigen of The Houston Chronicle (subscriber link).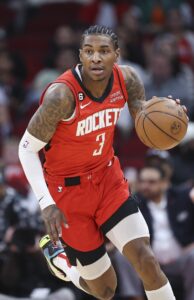 Police arrived at a hotel at 6:45am Eastern time following a 911 call.
"Upon arrival officers were informed that a 26-year-old female sustained a laceration to the right side of her face and was complaining about pain to her neck," a New York Police Department spokesperson said. "A preliminary investigation on scene determined that a known individual struck her multiple times upon her body and placed his hands around her neck."
The woman was taken to a hospital to be evaluated.
According to Aaron Katersky of ABC 7 New York, Porter arrived at the Times Square hotel early Monday morning after a night out, and his girlfriend, a former WNBA player, wouldn't let him into the room because she was upset at the hour of his return. Porter gained access to the room with the help of security and that's when the alleged assault occurred, police sources tell Katersky.
Rockets general manager Rafael Stone declined to comment on the incident, according to Feigen.
Porter was considered one of the top prospects in his draft class, but he fell to 30th overall in 2019 in part due to off-court concerns — he was suspended indefinitely during a portion of his lone college season at USC for personal conduct issues. During his rookie season with Cleveland, he was suspended for a game for making improper conduct with an official.
During the 2020 offseason, Porter was arrested for improper handling of a firearm following a car accident. He opened 2020/21 on the inactive list due to the gun charge, which was later dropped.
In January 2021, Porter had a locker room outburst, which caused the Cavaliers to publicly say they would either trade or waive him. The Rockets basically got him for nothing in return — they gave up a heavily protected second-round pick.
The following January, Porter was suspended by Houston for a game following a verbal altercation with then-assistant coach John Lucas. The 23-year-old reportedly threw an object in the locker room and left the arena before the game ended.
Porter is undeniably talented — he averaged 19.2 points, 5.7 assists, 5.3 rebounds and 1.4 steals on .442/.366/.784 shooting in 59 games (34.3 minutes) last season. However, it's pretty clear that the Rockets aren't entirely sold on him being a centerpiece of their future.
For example, Porter signed a four-year, $63.4MM+ rookie scale extension with Houston last October, but only his 2023/24 salary ($15.86MM) is guaranteed. He has a $1MM partial guarantee for '24/25, followed by a non-guaranteed salary in '25/26 and a non-guaranteed team option in '26/27, the final year of the deal.
The Rockets also drafted guard Amen Thompson fourth overall a few months ago and gave Fred VanVleet a three-year, maximum-salary contract in free agency (the third year is a team option), so Porter's role will likely be reduced this season — assuming he remains on the team following his latest off-court incident.