The Warriors are signing free agent wing Rodney McGruder, sources tell Shams Charania and Anthony Slater of The Athletic (Twitter link). The veteran guard/forward will be competing for a standard roster spot in training camp, Charania adds.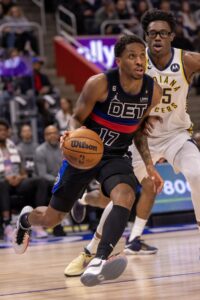 McGruder, 32, is a seven-year NBA veteran, appearing in 317 regular season games with the Heat, Clippers and Pistons over that span. He has spent the past three seasons with Detroit.
McGruder's on-court time has been limited in recent seasons — he appeared in 99 games for an average of 14.9 MPG during his Pistons tenure. However, he had solid production when he did play, averaging 5.5 PPG and 2.1 RPG on a .441/.412/.768 shooting line from 2020-23.
A former Kansas State Wildcat, McGruder was reportedly a highly respected locker-room leader for the Pistons, which is part of the reason why they kept bringing him back. Detroit renounced his rights this summer in order to maximize its cap space.
Slater previously reported the Warriors were prioritizing another wing (instead of a big man) to add to their roster ahead of training camp. McGruder will be part of that equation for now.
At a press conference on Monday, GM Mike Dunleavy Jr. said the team was still exploring its options with the final standard roster spots, which suggests McGruder might be on a non-guaranteed or partially guaranteed deal.
"We're open and I think that's a great position to be in where we have flexibility and can evaluate … We don't have our sights set on one thing," Dunleavy said, per ESPN's Kendra Andrews (Twitter link).
The Warriors currently have 13 players on standard contracts and a pair of players — Lester Quinones and Usman Garuba — on two-way deals. McGruder will fill the 14th spot once his deal is official.