James Harden has decided to skip the Sixers' media day to protest the team's failure to meet his trade request, tweets ESPN's Adrian Wojnarowski.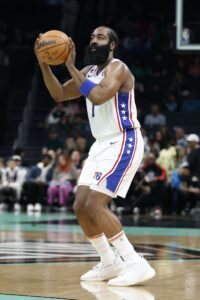 Harden could be fined for missing the event, Wojnarowski adds (Twitter link). After the session with the media wraps up, the Sixers will depart for training camp at Colorado State University, and it's not clear whether Harden intends to accompany them.
The Clippers remain Harden's preferred destination, but sources tell Wojnarowski that although the teams engaged in recent trade discussions, there's no traction on a Harden deal to Los Angeles or anywhere else.
Bobby Marks of ESPN points out that Harden could be found in violation of his contract under the CBA's "withholding services" clause if he stays away from the team for more than 30 days, which could endanger his free agency for next summer (Twitter link). The fine for not appearing at media day could be added to fines for missing practice as well as 1/91.6 of his salary ($389,083) for each preseason or regular season game he sits out.
Sixers president of basketball operations Daryl Morey opened media day with a statement about Harden (Twitter link from Tim Bontemps of ESPN), telling reporters, "He continues to seek a trade and we are continuing to work with his representation to find the best solution for the 76ers and all parties. In terms of a trade, I will continue to work on those fronts and, if he's here, then coach will work with him on the court. I think it's pretty straightforward."
Asked about potential fines, Morey said Harden will be treated "like every other player under the rules of the CBA" (Twitter link).
New head coach Nick Nurse said he has a "Plan A" and "Plan B," depending on whether Harden eventually decides to be part of the team. Nurse's immediate concern is getting a foundation in place to start the season.
Harden has been feuding with the Sixers, and Morey in particular, over what he believes are promises that weren't lived up to. Harden expected to sign a lucrative long-term deal with the team after giving up money last summer, but he didn't get the offer he was expecting. He made a surprising choice in late June to pick up his option for next season and ask for a trade, but hasn't been gotten dealt as he'd hoped. He has indicated that he will continue to be disruptive as long as he remains in Philadelphia.