OCTOBER 3: The Spurs have officially signed Vassell to his contract extension, the team announced today in a press release.
---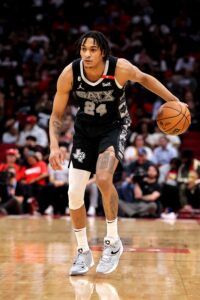 OCTOBER 2, 5:09pm: Vassell's extension is a straight five-year deal with no options and features $135MM in guaranteed money, according to Michael Scotto of HoopsHype, who reports (via Twitter) that Vassell can earn another $11MM in incentives.
---
OCTOBER 2, 4:09pm: Guard/forward Devin Vassell is signing a five-year, $146MM rookie scale extension with the Spurs, his agents at CAA Sports tell ESPN's Adrian Wojnarowski.
Given how much money they're committing to him, clearly the Spurs view Vassell as a long-term cornerstone of their rebuild alongside No. 1 overall pick Victor Wembanyama, 2022 lottery pick Jeremy Sochan, and Keldon Johnson, among others.
Vassell, 23, was the No. 11 pick of the 2020 draft after two years at Florida State. The Georgia native had a breakout third season in 2022/23, averaging 18.5 points, 3.9 rebounds, 3.6 assists and 1.1 steals on .439/.387/.780 shooting.
However, Vassell was limited to 38 games (31.0 minutes per night) last season due to a left knee injury, which required surgery in January.
Back in June, there were rumors the Spurs might be looking to add another lottery pick. General manager Brian Wright shut down any speculation that the team would entertain trading Vassell, and now San Antonio is inking the young wing to a new contract.
If Vassell's extension is fully guaranteed, he will earn $29.2MM annually on his new deal, which will begin in 2024/25. He will make $5.89MM this season.
As ESPN's Bobby Marks tweets, despite the significant financial commitment to Vassell, the Spurs still project to have $45-60MM in cap room next summer, so they could be a major player in free agency.
The Spurs have a history of signing their productive first-round picks to rookie scale extensions. Dejounte Murray, Derrick White and Johnson all inked extensions with San Antonio in recent years, though Murray and White have since been traded.
Vassell is the sixth player to agree to a rookie scale deal this offseason. The full list — as well as the players who are eligible for their own extensions — can be found right here.