Last month, we outlined how the Anthony Davis saga in New Orleans could significantly impact what Karl-Anthony Towns next contract looks like.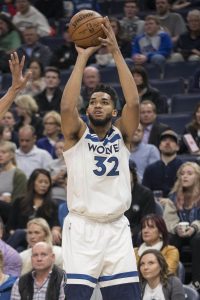 Towns' new extension, signed last fall, will start at 30% of the cap if he earns All-NBA honors in 2019, as opposed to 25% of the cap if he misses out on an All-NBA slot. With Nikola Jokic and Joel Embiid expected to claim two All-NBA center spots, Towns is in position to grab the third, in part due to Davis' trade request — not only will AD's role in the Pelicans' dysfunction be considered, but he's playing limited minutes down the stretch while Towns puts up some of the best numbers of his career.
Assuming Towns does earn an All-NBA nod, it'll be a $30MM+ decision by award voters, bumping the projected value of his five-year deal from about $158MM to nearly $190MM. However, KAT isn't the only player who could have his contract situation significantly impacted by this year's All-NBA selections.
As Brian Windhorst of ESPN.com and Andrew Sharp of SI.com have detailed this week, there's a lot at stake for a handful of players who are candidates for this year's All-NBA teams. Let's break it down, taking a closer look at some players who could become eligible for a super-max contract this year…
The All-NBA locks:
While there's some debate over which six guards will get All-NBA nods, Lillard looks like a slam dunk for a spot on the first or second team — Lillard, Stephen Curry and James Harden appear to be the strongest candidates for the two guard spots on that first team.
Assuming he does, in fact, earn All-NBA honors, Lillard will become eligible for a Designated Veteran Extension. His current contract runs through 2020/21, with no options, so he'd be eligible to tack on four extra years to that deal, starting in 2021/22.
For now, i's impossible to say exactly what the NBA's salary cap will be in 2021/22, but based on projections for '19/20 ($109MM) and '20/21 ($118MM), we can safely assume a max deal for Lillard starting in '21/22 will be worth a lot more than it would be now. Conservatively, estimating a $120MM cap, Lillard's super-max extension would start at $42MM and would be worth $188MM+ over four years.
With Lillard in position to gain eligibility for a super-max extension, the big question in Portland this summer could be whether the Trail Blazers will actually put that offer on the table. There have been no indications that either Lillard or the Blazers wants to end their union, but the club might be wary of offering such a massive deal to a player who will be 31 years old when the four-year deal begins — that decision hasn't worked out well for the Wizards with John Wall.
As for Antetokounmpo, he's on track to become eligible for a Designated Veteran Extension too, and that decision figures to be a much easier one for the Bucks. However, Milwaukee won't be able to actually put that super-max offer on the table until the 2020 offseason, once Giannis has seven years of NBA experience under his belt.
The All-NBA guard contenders: