The Wizards revamped their frontcourt this offseason, acquiring Davis Bertans from the Spurs and netting Moritz Wagner in a package from the Lakers, and Washington is using the preseason to get the pair acclimated. Both big men can knock down the three-ball with ease and Wagner feels that playing next to the sharp-shooting power forward has made his life easier on the court, as he recently told Hoops Rumors and other media members.
"It's fun. I mean, he's a killer," Wagner said of Bertans after a recent preseason game against the Bucks. "He doesn't really care if he misses, so he lets a fly all the time. It makes my life easier because all I have to do is really set good screens and be solid defensively. It's unbelievable to play with him, all these guys honestly. They do an incredible job, play tough as heck. It's a lot of fun."
Bertans' shooting was a major reason why the Wizards traded for him this offseason. The Latvian made 42.9% of his three-pointers last season, though the team knows he isn't a one-trick pony.
"[Bertans] one of the best shooting bigs in the league and we're lucky to have him and that's a great addition to our ballclub over the summer," Coach Scott Brooks told the media, including Hoops Rumors, on Sunday.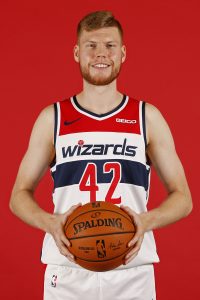 "We knew what we were getting, and it was under the radar how good he was going to be for us because a lot of time shooters don't get the same respect. But he's great. We love him. I like how he plays, I like how he competes. On the defense he contests shots. And when I talked to Pop [Gregg Popovich] over the summer, that's when he said you're going to be surprised defensively, he contests shots and he chases over screens. He gives you multiple efforts, he's not just a jump shooter."
How many minutes Wagner and Bertans will spend together on the court remains to be seen. Bradley Beal and Bryant are locks to start and Ish Smith—by virtue of being the only healthy veteran point guard available—will likely join them on opening night. Brooks could still opt to insert Bertans in the starting lineup, as the two starting forward positions remain unsettled.
The Wizards have set a different starting lineup in each of their first four preseason games and Bertans came off the bench in each of those contests. However, it's worth noting that the former Spur was teamed up with the three presumed starters during an internal scrimmage earlier today.
While Wagner started one of the preseason games alongside Bryant, he'll likely open the season as Washington's backup five. He saw roughly 60% of his minutes at the center position last season, per Basketball-Reference, and with Ian Mahinmi nursing a right Achilles strain, the Wizards have an immediate need for someone to spell starter Thomas Bryant. Wagner should also see some time at the four this season and he's comfortable playing either spot, as his role on the court doesn't really change.
"I do the same thing, I'm the same player. So, whatever number you want to put on it," Wagner said on Sunday. "I'm the same Mo, I really don't care. In this league, you are who you can guard, so I think that's the challenge. Either way, I'm excited to do that."
Fans in Washington will see many new faces this season, particularly in the frontcourt where Bryant is the only big man from last year's squad expected to be available for opening night. The franchise has one more preseason contest (Friday vs. the Sixers) before the regular season begins in Dallas.
"I think as a team, overall, we've done a really good job," Wagner added. "Just connecting really well, just talking to each other, and planting confidence in each other. I think it looks good so far."
Photo courtesy of USA Today Sports Images.