7:14pm: The four-team deal is official, according to a Kings press release.
A press release from the Clippers notes that L.A. also received the draft rights to Vanja Marinkovic from Sacramento in the deal, sending the draft rights to David Michineau to the Kings. The cash going to Milwaukee in the trade comes from the Clippers.
As we previously relayed, the Kings waived Jahmi'us Ramsey and Robert Woodard to complete the move.
---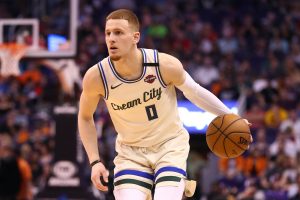 10:47am: The Kings are trading former No. 2 overall pick Marvin Bagley III to the Pistons, sources tell Shams Charania and Sam Amick of The Athletic (Twitter link). According to ESPN's Adrian Wojnarowski of ESPN (Twitter link), that move will be part of a four-team trade that sends Bucks wing Donte DiVincenzo to Sacramento.
The Clippers will be the fourth club involved in the deal, as Charania reports (via Twitter) that big man Serge Ibaka is headed to Milwaukee. Los Angeles is acquiring swingman Rodney Hood and forward Semi Ojeleye from the Bucks, tweets Andrew Greif of The Los Angeles Times.
Sacramento is receiving Pistons forwards Josh Jackson and Trey Lyles along with DiVincenzo, per Charania (via Twitter), while Detroit is also sending out multiple second-round picks, according to Wojnarowski (Twitter link).
Woj (via Twitter) breaks the deal down as follows:
Kings acquire DiVincenzo, Jackson, and Lyles.
Pistons acquire Bagley.
Clippers acquire Hood and Ojeleye.
Bucks acquire Ibaka, two second-round picks, and cash.
The Kings continue to reshape their roster after acquiring Domantas Sabonis, Justin Holiday, and Jeremy Lamb in a trade with the Pacers Tuesday. DiVincenzo ($4.7MM this season) is eligible for restricted free agency in 2022 if Sacramento chooses to give him a qualifying offer, while Jackson ($3MM) is on an expiring deal. Lyles, however, earns $2.5MM this season and has a club option for next season at $2.6MM, giving the Kings some added flexibility.
DiVincenzo has been a solid defender, rebounder, and has a knack for being in the right place at the right time. He's had a slow start to this season after recovering from ankle surgery and then entering the health and safety protocols, but he's a young, controllable asset who likely won't be too expensive going forward. Sacramento tried to acquire him prior to last season in the botched sign-and-trade that would have sent Bogdan Bogdanovic to the Bucks, but the deal was nullified due to "gun-jumping." The Bucks ended up forfeiting a second-rounder in the process.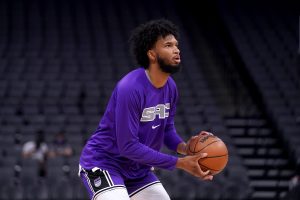 The Kings had reportedly been shopping Bagley for well over a year, as he was drafted by the previous front office regime and was publicly unhappy with the franchise. As a three-for-one trade, the Kings will have to waive two players, unless they make subsequent moves prior to the deal becoming official.
The Pistons are taking a gamble on Bagley, a good athlete who failed to develop in his time in Sacramento. Still just 22, Bagley could have untapped upside and figures to see more minutes on a rebuilding Pistons team. Like DiVincenzo, Bagley will be a restricted free agent in 2022. He's earning $11.3MM in the final year of his rookie contract this season.
James Edwards III of The Athletic (Twitter link) reports that the Pistons will be sending Sacramento's 2024 second-round pick and either Cleveland's or Golden State's 2023 second-rounder (whichever is less favorable) to the Bucks.
For the Clippers, it's a cost-cutting move that will save them approximately $30MM in luxury tax payments, per ESPN's Bobby Marks (via Twitter). In order for the deal to work, Ibaka will need to amend a portion of his 15% trade bonus, Marks tweets, which Los Angeles will be responsible for.
Greif reports (Twitter link) that the Clips have been interested in Hood and Ojeleye in the past. Both players are on veteran minimum deals that expire this summer. Moving Ibaka gives more clarity to a crowded center rotation featuring Ivica Zubac, Isaiah Hartenstein, and newly-acquired Robert Covington (in small-ball looks).
By adding Ibaka's $9.7MM contract and sending out three players, the defending champion Bucks will have three open roster spots (not including Greg Monroe, who's on a 10-day deal) and add $6MM towards the luxury tax, Marks tweets. The cash they're receiving will help offset the additional luxury tax payment. The Bucks had been searching for a center for a few months due to Brook Lopez's back injury; their starting center has suited for just one game this season.
Ibaka is having a down year after undergoing back surgery himself last summer, but he's a smart, proven veteran who can space the floor and protect the paint when healthy. The two-second round picks will be key assets for a Bucks team that could be facing the repeater tax for multiple seasons as they contend for more titles.
Rory Maher contributed to this story.