We covered 11 of the significant in-season deals of 2022/23 in our trade breakdown series. Here's a rundown of the six other trades that occurred in January and February.
---
Noah Vonleh salary dump
On January 5:
Entering 2022/23, the Spurs were one of two teams with a significant amount of cap room available, making them a prime target for salary dumps. That's all this trade boiled down to for the Celtics.
By trading Vonleh before his salary became guaranteed, the Celtics not only removed his $1.16MM cap hit and saved $7.15MM toward their luxury tax bill, but they also freed up a roster spot. It also minimized the amount of cash they had to send out to make the deal – if they had waited a few more days, Vonleh's cap hit would have increased to $1,836,090, which is the standard amount for all veterans on one-year, minimum-salary contracts.
The Celtics still technically paid Vonleh all but two days of the prorated minimum salary he received this season — the Spurs paid the final two days after acquiring and waiving him. Removing him from the books was purely about the financial impact, as he was a deep-bench reserve who seldom played (in 23 games, he averaged just 7.4 minutes per contest).
Boston also created a traded player exception equivalent to Vonleh's salary since it didn't receive a player in return.
Vonleh did not catch on with another team after the trade and the 27-year-old big man will still be an unrestricted free agent this summer.
The pick the Spurs sent out is extremely unlikely to convey — they just had to send something back in return. They also waived – and later re-signed – center Gorgui Dieng as part of this trade, which moved them marginally closer to the salary cap floor.
Essentially, they net gained about $339K in cash as part of the deal and were able to keep Dieng around as a veteran leader after he cleared waivers .
---
Dewayne Dedmon salary dump
On February 7:
Another salary dump, this time for the Heat. Dedmon had fallen out of Miami's rotation – he had been dealing with plantar fasciitis, and was suspended one game for a sideline incident that saw him swat a Theragun (a massage device) onto the court out of anger after being subbed out.
Removing Dedmon's $4.7MM cap hit gave the Heat the financial flexibility to sign a couple of frontcourt reinforcements — Kevin Love and Cody Zeller — while still remaining below the luxury tax line. They already had one open roster spot and removing Dedmon freed up a second, so they didn't have to release anyone to add the two veterans.
As with Boston, Miami also generated a TPE equal to Dedmon's salary since the team didn't acquire a player in return.
As previously mentioned, the Spurs had ample cap room available and used more of it to add and then waive Dedmon (who signed with the Sixers but rarely plays), acquiring a second-round pick in the process. They only sent out $110K to complete the transaction, which is the minimum amount a team can send or receive in a trade in '22/23.
---
Kessler Edwards salary dump
On February 7: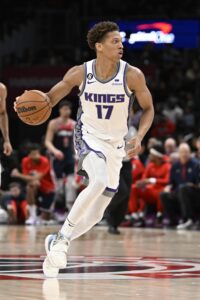 Another minor trade, this time a salary dump for the Nets. The primary difference is the Kings actually kept Edwards instead of immediately waiving him.
Brooklyn saved about $8MM in salary and luxury tax payments by moving Edwards, a 2021 second-round pick out of Pepperdine. He showed some promise as a rookie, but only played 27 minutes for the Nets this season.
As a second-year player on a minimum-salary contract, Edwards is earning $1,637,966 in '22/23. That's the amount of the TPE the Nets created in this deal. Michineau is currently playing in Italy and every year he remains overseas, he's less likely to ever be brought stateside.
Still just 22 years old, Edwards has been a rotation member over the past month for Sacramento, averaging 3.9 points and 2.0 rebounds on .435/.349/.769 shooting in 22 games (13.9 minutes). The Kings will have a $1.93MM team option on Edwards for '23/24 if they want to bring him back – considering he was getting rotation minutes down the stretch, I'd be mildly surprised if they don't exercise it.
---
Rockets/Hawks four-player deal
On February 9: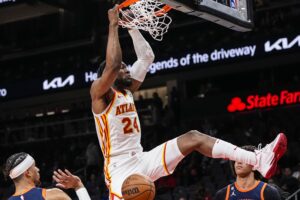 This trade (understandably) flew under the radar a bit due to all the blockbusters on deadline day, but it was pretty interesting for both sides because it was more complicated than it appears on the surface.
For example, the Hawks were able to treat this as essentially three separate trades rolled into one. They acquired Mathews with an existing TPE, did a simultaneous trade of Kaminsky for Fernando, and then a non-simultaneous trade of Holiday, which allowed them to create a new mid-sized outstanding trade exception of $6,292,440, equal to Holiday's outgoing cap charge.
Both Mathews (26) and Fernando (24) are young and have played some solid basketball across their four NBA seasons, and their contracts are affordable. However, neither played much for the Hawks, and their salaries are non-guaranteed for '23/24, so it's certainly not a given that they'll be back next season.
The primary purpose of the deal was to clear enough salary cap space to remain below the luxury tax line. Atlanta used that extra breathing room to acquire Saddiq Bey – a third-year forward who has become a key bench contributor – with a separate trade exception.
The Rockets could not complete this as a straight two-for-two simultaneous trade, as the amount of incoming money from Holiday and Kaminsky was greater than 175% of Mathews' and Fernando's salaries (plus $100K). Instead, they treated it as a simultaneous trade for Holiday and used the minimum salary exception to acquire Kaminsky.
Houston's primary motivation was to acquire the two second-round picks from the Thunder, which Atlanta controlled from a previous trade. OKC is on an upward trajectory, so it's hard to say where those picks might land, but it was solid value for taking on about $4MM in added salary.
The Rockets reportedly had interest in retaining both veterans, but Holiday wound up seeking a buyout and caught on with the Mavericks. Both Holiday and Kaminsky will be unrestricted free agents this summer.
---
Mike Muscala to Boston
On February 9: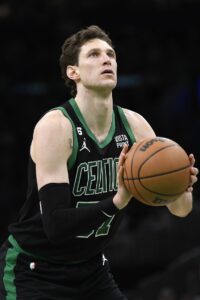 A classic win-now move from a championship contender, which Boston certainly is. A long-range shooting specialist, Muscala has shot a combined 40.8% from deep over the past two seasons, averaging 6.9 PPG and 3.1 RPG in 14.5 MPG over that span (106 games).
Adding another big man shooter allows the Celtics to play a five-out system to maximize floor spacing for drives, kick-outs, and swinging the ball around to find the open man. He's also on a relatively affordable $3.5MM contract with an identical team option for '23/24 – it's important to find value on the cheap for any team, but particularly taxpayers like Boston.
You could say this deal is sort of connected to the aforementioned salary dump of Vonleh, since the Celtics added about $6.4MM to their tax bill by swapping out Jackson's minimum-salary contract for Muscala. The Celtics had to use a trade exception left over from last year's trade deadline to acquire him, as Jackson's cap hit wasn't large enough to match his incoming salary (they also created another small trade exception equivalent to Jackson's salary).
While Muscala is far from a defensive stopper, his teams have actually been better on that end with him on the court in each of the past three seasons. The 31-year-old is not a rim protector nor a great rebounder, so those numbers may be a little noisy due to primarily playing against reserves.
The Thunder added Jackson (and then immediately waived him) using the minimum salary exception, generating a new trade exception equivalent to Muscala's $3.5MM salary. They also added a couple of second-round picks, which is solid value given Muscala's modest role — as the youngest team in the league, it's not like Muscala was in OKC's long-term plans, even if he was a steady veteran presence who contributed on the court as well.
Interestingly, the 2023 second-rounder heading to OKC is still up in the air and won't be determined until next month's draft lottery, because the Rockets finished the season tied with the Spurs for the NBA's second-worst record – whichever team selects earlier in the lottery will have the less favorable second-round pick.
If Houston's second-round pick lands at No. 32, the Thunder will receive the Heat's second-rounder (via Boston), but if it lands at No. 33, OKC will receive Portland's second-rounder (via Boston).
There's a substantial difference in value between those two second-rounders – the Blazers' pick will land at No. 35, while the Heat's will be between Nos. 48-50 (pending the results of a three-team tiebreaker). Clearly, the Thunder will be hoping that Houston drafts ahead of San Antonio in the first round, though I'm sure they'd rather not see either of their conference rivals land the No. 1 overall pick and the chance to select Victor Wembanyama.
---
Mason Plumlee to the Clippers
On February 9: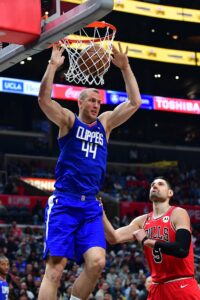 Another relatively modest win-now deal, this time for the Clippers, who had been looking for reliable center depth leading up to the deadline and found it in Plumlee, a 10-year veteran who was surprisingly having the best season of his career for Charlotte at age 32.
In 56 games with the Hornets, all starts, he posted career highs in several categories, including field-goal percentage (66.9%), points (12.2), rebounds (9.7), assists (3.7) and minutes per game (28.5). His playing time has dipped since he joined the Clippers, which is understandable because he's playing behind Ivica Zubac – he averaged 7.5 points, 6.9 rebounds and 1.7 assists in 23 games (four starts, 19.9 minutes).
Plumlee's expiring salary made him a natural trade candidate, particularly since the Hornets have drafted multiple centers in the past few years and had a disappointing 2022/23 season due in part to off-court issues and injuries. Jackson was reportedly a positive locker-room presence, but he was struggling for the second straight season and the Clippers only had to give up one second-rounder and some cash to complete the deal.
Plumlee has some limitations (he's a non-shooter and a below-average defender), but he plays hard, sets solid screens, and generally is in the right spots. The Clippers will have his Bird rights if they want to re-sign him this summer.
L.A. also generated a small ($2,134,843) trade exception as part of the deal, which was the difference in Jackson's ($11,215,260) and Plumlee's ($9,080,417) salaries. While the Clippers did save some money here, they actually added to their tax bill with their other trades (acquiring Bones Hyland and Eric Gordon in separate deals).
One rumor leading up to the deadline indicated the Hornets were looking for a first-round pick for Plumlee, but I didn't view that as realistic – he's mostly been a backup, and while his contract isn't unreasonable, it's also expiring, so he could be a rental player. They also received some cash as part of the deal to help offset the aforementioned salary differences.
Jackson subsequently reached a buyout and signed with Denver, so clearly the primary motivation for Charlotte was extracting whatever draft capital it could in return for Plumlee. I'm sure giving the team's young centers more minutes was a motivating factor as well, but president of basketball operations Mitch Kupchak said after the deadline that he was concerned about having so many free agents due to the uncertainty of what it will take to re-sign them.
The Hornets gave backup center Nick Richards a three-year, $15MM extension last month, so both he and rookie starter Mark Williams will be under team control for at least three more seasons.