This is the third entry in our series breaking down the significant trades of the 2022/23 season. As opposed to giving out grades, this series explores why the teams were motivated to make the moves. Let's dive into a deal between the Raptors and Spurs…
---
On February 9, the Raptors acquired Jakob Poeltl from the Spurs in exchange for Khem Birch, the Raptors' 2024 first-round pick (top-six protected), and Toronto's second-round picks in 2023 and 2025.
The Raptors' Perspective:
I found this to be one of the more fascinating trades of the deadline. The most obvious reason for that is many around the league thought the Raptors would – and should – be sellers.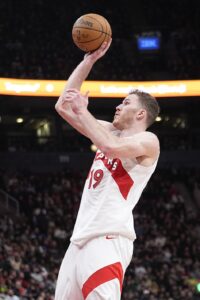 Instead, the Raptors doubled down on their core group and made a win-now move to re-acquire Poeltl, whom the team drafted ninth overall back in 2016.
Toronto did not trade away a top-six protected first-rounder and two seconds for a rental player – the team plans to re-sign the center in free agency. Poeltl publicly said he could see it being a long-term fit.
Reports have indicated he could land a contract in the range of $15-20MM per year, so he will not be cheap.
The Raptors have lacked size and rebounding in the middle for multiple years, ranking 28th, 30th and 30th over the past three seasons in defensive rebounds per game, according to Basketball-Reference.com. At 7'1″, Poeltl is one of the tallest players in the NBA, and he is solid on the defensive glass, ranking 21st in the league with a 24.9% defensive rebounding percentage (Chris Boucher previously led the team at 21.4%, which ranks 39th).
Poeltl also enhances a team strength on the other end, as his 13.3% offensive rebounding percentage ranks seventh in the league (Boucher is 16th at 11.3%). The Raptors have ranked second and fourth, respectively, in offensive rebounds per game over the past two seasons.
The Austrian big man was consistently one of the league's stingiest rim protectors from 2019-22, ranking third, fourth and sixth in defensive FG% at the rim over those three seasons, per NBA.com (minimum five shots defended and 40 games played). Opponents shot between 50.3% and 54.8% in those seasons with Poeltl defending them near rim (anything close to 50% is terrific).
Poeltl is allowing 62.2% at the rim in '22/23, which isn't great, but the Spurs have by far the worst defense in the league – I wouldn't read too much into that drop-off. For context, San Antonio is allowing opponents to shoot 50.9% from the field, which is dead last in the NBA, and 39.4% from three, which is also last.
On top of his rebounding and rim protection, the 27-year-old is a solid screener, and he improved tremendously as both a scorer and a passer during his time in San Antonio. Over the past two seasons with the Spurs, Poeltl averaged 12.9 points, 9.2 rebounds, 2.9 assists and 1.5 blocks per night in 113 games (27.8 MPG).
Poeltl, Pascal Siakam and Fred VanVleet were all rookies in '16/17 and spent their first two seasons together, so there is a level of familiarity not only with the organization but with Toronto's longest-tenured players. That theoretically should help Poeltl re-acclimate quickly.
He brings a different look and dynamic to a team that had lacked a true center for a few years. The Raptors tried to play rookie Christian Koloko in a similar role to start the year, but he needs more time to develop.
The Raptors went 48-34 and made the playoffs as the East's No. 5 seed last season. The front office hopes swapping out a non-contributor in Birch for Poeltl will not only galvanize the group amid a disappointing 28-31 season, but also enhance the team in ways that haven't been seen since Marc Gasol and Serge Ibaka left in free agency back in 2020.
However, for all of Poeltl's strengths, he is a non-shooter who is hard to rely on at the end of games due to his abysmal free throw shooting – he's at 53.1% for his career. He might help others get better looks due to his screening and complementary play-making, but he doesn't directly address the team's 27th-ranked 3-point percentage (33.6%).
I also have yet to mention the contractual issues the team will be facing in the offseason, as Poeltl, VanVleet and Gary Trent Jr. are all about to hit unrestricted free agency, barring unforeseen circumstances (VanVleet and Trent are expected to decline their player options for '23/24). This roster could get very expensive very quickly, and it's hard to see any short-term championship upside unless Scottie Barnes develops into a star sooner rather than later.
Shortly after the deal, president of basketball operations Masai Ujiri implied that the Raptors were less than thrilled with some of the trade offers they were getting for their players.
"The way I look at the deadline (is) it's really not a great place to make long-term decisions," Ujiri said, per Doug Smith of The Toronto Star. "In the summer, there are 29 losers and one winner. There are 29 teams looking to do more."
There's nothing wrong with that statement from a philosophical standpoint. But what he said and what the Raptors actually did at the deadline don't align.
Toronto traded away a fairly lightly protected 2024 first-round pick (it's top-six protected through 2026) and a couple second-rounders to bolster the team this season and have Poeltl's Bird rights in free agency to give him a long-term contract. Everything about this deal involved long-term decisions and consequences.
Ujiri also gave some insight into how the Raptors' front office views the team's three potential free agents, according to Smith.
"We are always focused on trying to retain our players," Ujiri said. "That's always the focus for us, and we'll be focused on that with these guys and see how we perform the rest of the season and make that assessment."
Obviously, part of the reason why VanVleet and Trent were retained is that the Raptors value them more than what other teams offered. There hasn't been any solid reporting regarding exactly what Toronto was offered, so there's no way to evaluate that stance from an outside perspective, but it's reasonable enough on the surface – the Raptors have a severe lack of backcourt depth and they are the team's two best guards.
Adding Poeltl and trading away those picks, particularly the first-rounder, indicates that the Raptors aren't entertaining a full-scale rebuild anytime soon. There's no reason they would need to – all of their best players are 28 years old or younger, so they should be able to retool if necessary without completely tearing it down.
We'll see what they do in the offseason with some of their core players, but they may have missed an opportunity to go for a "soft" rebuild by cashing in on an asset or two and improving their lottery odds in what's supposed to be a strong draft. Acquiring Poeltl just to increase the likelihood of getting eliminated in the first round of the playoffs again this season is pretty strange, even if he's a good player that fills a need.
---
The Spurs' perspective:
San Antonio's side of the deal is relatively straightforward. My best guess is either Poeltl let the Spurs know that he wasn't going to re-sign this summer, or the Spurs decided they didn't want to pay him his market price on a long-term contract in free agency while they're in the infancy stage of a rebuild.
Birch was a solid backup center with Orlando, but saw his minutes cut as the Magic pivoted to a rebuild. The two sides reached a buyout agreement in April 2021 so he could get more playing time. The Montreal native caught on with the Raptors and impressed during his 19 games (30.4 MPG) with the club at the end of that season, averaging 11.9 points, 7.6 rebounds, 1.9 assists and 1.2 blocks.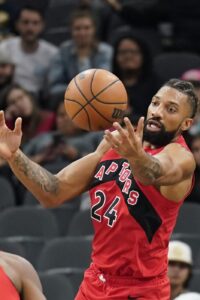 Unfortunately, knee problems have derailed his career after he re-signed with the Raptors on a three-year, $20MM deal, with Birch averaging just 3.9 points and 3.5 rebounds in 75 games (15.4 MPG) over the past two seasons.
Moving off Birch's guaranteed $7MM salary for '23/24 will help clear the books somewhat for Toronto. It seems unlikely that the 30-year-old will have much a role with the rebuilding Spurs after he gets healthy, but they have plenty of cap room available next season so adding him isn't burdensome beyond taking up a roster spot.
The Spurs were reportedly looking for a couple first-round picks for Poeltl. I haven't discussed this much in the past, but not all first-round picks are of equal value. That may seem like a very obvious statement, but it's worth keeping in mind when reading rumors or evaluating trades.
I'm paraphrasing because I don't remember which episode it was, but ESPN's Zach Lowe brought up on his podcast a few weeks ago that he spoke to an NBA executive who said their team breaks down the value of first-round picks into tiers. Unprotected picks from bad teams in the upcoming draft or from any team years down the line are the most valuable, followed by lightly protected picks (top-four or so), then moderately protected (roughly top-eight) and finally lottery-protected picks. Anything protected beyond the lottery doesn't have much value because it could take a while to convey, if at all.
If the season ended today and the Raptors lost in the play-in tournament, their 2023 pick would have the ninth-best lottery odds. Are they a lock to make the playoffs next season? I would certainly say no, considering how mediocre they've been this season.
The Raptors have already showed their hand in that they have no intention of rebuilding. They wouldn't have traded a solid first-round pick otherwise. Sure, they protected themselves a little bit, but they're unlikely to be at the very bottom of the standings in 2024 — if they miss the playoffs, the pick is more likely to be in the latter half of the lottery than in the top six.
Let's say the Raptors finish around .500 next season, miss the playoffs, and have the 12th-best lottery odds. The Spurs could very easily possess two lottery picks in 2024 in that scenario, and it's not far-fetched.
The 2023 second-rounder the Spurs acquired from the Raptors would land No. 39 at the moment as well, which is pretty early. That certainly doesn't have the same value as a late first-rounder, but it's much better than, say, the No. 50 pick, which is often used on two-way players or draft-and-stash candidates.
Point being, there's a strong case to be made that what San Antonio received in this deal is better value than getting a couple lottery-protected first-rounders from another team. That technically would have been receiving two first-round picks, even if they were conditional.
Prioritizing center minutes to Zach Collins and Charles Bassey also makes sense for the Spurs from a developmental perspective, as they're both younger than Poeltl and less of a known commodity.
I personally think the Spurs got outstanding value for Poeltl given that he's on an expiring $9.4MM contract and could be earning double that next season. He's a good role player, but he isn't the type who is going to significantly move the needle when the players around him are still in the early stages of their development.