JULY 7: The Raptors have issued a press release formally confirming their new deal with Ibaka.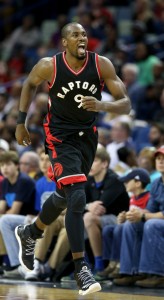 "We are thrilled with the skills and intangibles Serge brings to our team," Raptors president Masai Ujiri said in a statement. "He is one of the top two-way power forwards in the NBA and his ability to stretch the floor is a valuable asset today's game."
JULY 2: The Raptors have reached an agreement on a new deal for Serge Ibaka, reports Adrian Wojnarowski of ESPN. According to Wojnarowski, Ibaka has agreed to sign a three-year contract worth $65MM to remain in Toronto.
Ibaka, who will turn 28 in February, initially joined the Raptors in a trade deadline deal back in February, as the Magic sent him to Toronto in exchange for a package that featured Terrence Ross and a first-round pick. The veteran big man averaged 14.2 PPG, 6.8 RPG, and 1.4 BPG with a .398 3PT% down the stretch for the Raptors, and there was a sense that the two sides wanted to continue the relationship beyond this year.
Ibaka is no longer the dominant rim protector that he was during his prime years in Oklahoma City, when he led the NBA in blocks in consecutive seasons. However, he has developed into a legitimate outside threat, setting new career bests in three-point percentage (39.1%) and threes per game (1.6) in 2016/17.
With Ibaka back in the fold, it seems likely that the Raptors will also lock up free agent point guard Kyle Lowry. Ibaka and Lowry share an agent in ASM's Andy Miller, and while the duo isn't necessarily viewed as a package deal this summer, it makes sense for Toronto to retain both, since the team won't have the cap flexibility to sign a comparable replacement for Lowry if he leaves. The fact that the Raptors are reportedly discussing a Cory Joseph trade with Indiana also bodes well for Lowry's return.
[RELATED UPDATE: Raptors to re-sign Kyle Lowry]
It remains to be seen how Ibaka's new deal with the Raptors will affect incumbent center Jonas Valanciunas. The majority of Toronto's most effective lineups late in the 2016/17 season had Ibaka playing center, and he seems to be a better fit at the five than the four. Valanciunas would be a pricey backup at $15MM+, and if Lowry gets a big payday, the Raptors will go over the tax line, so the young center could be on the trading block again.
As Zach Lowe of ESPN.com observes (via Twitter), re-signing Lowry to a deal near the max and trading Joseph wouldn't get the Raptors below the tax threshold. Toronto is looking to move contracts, according to Lowe, who notes that Valanciunas is the most interesting trade chip to watch, since the Raps would have to attach an asset or two to DeMarre Carroll to move his deal.
Photo courtesy of USA Today Sports Images.