Throughout the season, Hoops Rumors takes a closer look at players who will be free agents or could become free agents this off-season. We examine if their stock is rising or falling due to performance and other factors. This week, we take a look at players from the Central Division: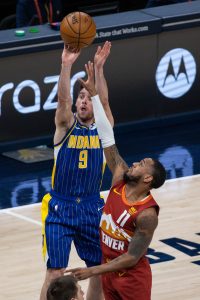 T.J. McConnell, Pacers, 28, PG (Up) – Signed to a two-year, $7MM deal in 2019
McConnell delivered one of the rarest triple-doubles in NBA history this week. He became the first player to record a point-assist-steal triple-double since Mookie Blaylock in 1998 when he racked up 16 points, 13 assists and 10 steals against Cleveland on Wednesday. He also had a 17-point, 12-assist outing against New York on Saturday.
McConnell isn't a 3-point threat, but he's been maximizing his skills as one of Indiana's top reserves this season, averaging a career-best 6.8 APG. He's a good fit with the Pacers but he'll attract interest from other teams as a solid second-unit floor general.
Saben Lee, Pistons, 21, PG (Up) – Signed to a one-year, $449K deal in 2020
Lee was selected with the 38th overall pick in the draft and signed a two-way contract. He's taking advantage of some unexpected playing time and showing he's worthy of a spot on the 15-man roster. With Killian Hayes and Delon Wright sidelined by injuries, Lee has provided a spark off the bench behind recently-acquired Dennis Smith Jr. In Detroit's last two victories, Lee had a 21-point, 4-assist performance against Orlando and a 20-point, 7-assist outing against Toronto. He needs to become more of a perimeter threat but he'll fearlessly attack the basket and he's endeared himself to the coaching staff with his work ethic.
Jarrett Allen, 22, C (Up) – Signed to a four-year, $10MM deal in 2017
With the awkwardness of sharing the center spot with Andre Drummond behind him, Allen has settled in as the Cavaliers' main man in the middle. In 17 starts at center this season, Allen is averaging 16.2 PPG, 11.8 RPG, 2.2 APG and 1.7 BPG while shooting 69.5% from the field. It's well-known that Cleveland has every intention of re-signing Allen as he enters restricted free agency. The intrigue will come if one of the teams with ample salary-cap space delivers a giant offer sheet. In any case, Allen will become a very rich man this summer.
Thaddeus Young, Bulls, 32, PF (Up) – Signed to a three-year, $43.6MM deal in 2019
Young has a partially-guaranteed $14.19MM salary next season. He'll get $6MM for sure; he's giving the Bulls plenty of incentive to hand him the remaining $8.19MM and keep him off the free agent market. Young has been one of the best reserves in the league this season, providing the Bulls with a steady finisher at the rim (career-best 60.9% from the field) and plenty of rebounding. Coach Billy Donovan has turned Young into a playmaker and he's embraced that responsibility, averaging a career-high 4.4 APG. If the Bulls opt to trade Young this month, they'll get a decent haul in draft picks and/0r young players.
Photo courtesy of USA Today Sports Images.