This is the fourth entry in our series breaking down the significant trades of the 2022/23 season. As opposed to giving out grades, this series explores why the teams were motivated to make the moves. Let's dive into a blockbuster deal between the Jazz, Lakers and Timberwolves.

On February 9, the Lakers acquired D'Angelo Russell, Malik Beasley and Jarred Vanderbilt; the Jazz acquired Russell Westbrook, Damian Jones, Juan Toscano-Anderson and the Lakers' 2027 first-round pick (top-four protected); and the Timberwolves acquired Mike Conley, Nickeil Alexander-Walker, and three second-round picks (one from L.A., two from Utah).
Notes: Westbrook subsequently reached a buyout agreement with the Jazz and signed with the Clippers. All three teams involved in this deal generated traded player exceptions, which can be found right here.
---
The Jazz's perspective:
The Jazz weren't invested in continuing the season with their current roster, despite a surprisingly fun ride in a year that they were expected to be at the bottom of the standings.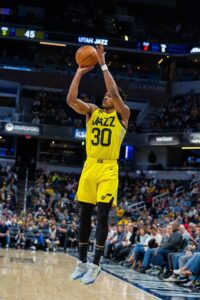 The move opened up playing time for Ochai Agbaji, Collin Sexton and Talen Horton-Tucker, three young players who had been in and out of the lineup (Sexton has been a rotation regular, but he's dealt with injuries – this deal moved him into the starting lineup). Vanderbilt had already been moved to the bench due to the emergence of Walker Kessler, and the two were an awkward fit together offensively because neither is much of a threat to shoot (Vanderbilt compensates for his lack of shooting somewhat by being a good passer and ball-handler for a power forward).
Many fans think the Jazz "lost" this deal. That perception seems to stem from two things: the Lakers only giving up one first-rounder, when it was assumed they'd have to move off one just to trade Westbrook's $47.1MM expiring salary, and the Jazz's asking prices not being met.
The Jazz were reportedly looking for first-round picks for all three of Conley, Beasley and Vanderbilt. But that was never a realistic expectation.
Based on the structure of the deal, it's pretty clear the Jazz were motivated to move off Conley's contract for '23/24, which is partially guaranteed at $14.32MM ($24.36MM base salary), and didn't at all mind adding Westbrook's expiring deal to do it (it's worth noting that the Jazz did add Jones' $2.6MM player option for next season, which will almost certainly be exercised; Toscano-Anderson is on an expiring minimum-salary deal). I viewed Conley's contract as having negative value leading up to the trade deadline, as he'll turn 36 years old next season and has already declined on both ends of the court, particularly defensively.
Beasley provides something that every team wants: high volume 3-point shooting. However, he's a very streaky shooter, and doesn't offer a ton in other areas. He makes $15.56MM this season with a $16.52MM team option for '23/24. I thought Beasley had slightly positive value, but nothing special – maybe a heavily-protected first-round pick or a few seconds.
Vanderbilt was the player who had the most value of the three, in my opinion, due to his age (23), rate of improvement, versatility, strong defense, and team-friendly contract – he makes $4.37MM this season and $4.7MM in '23/24 (only partially guaranteed at $300K). I thought Utah could get a late first-rounder this season or a lottery-protected first in the future for him.
In aggregate, that's one player with solid value, one with slightly positive value, and one with negative. Not a ton of overall value despite the three being rotation players for a decent team.
Obviously, the Jazz highly valued the lightly protected pick from the Lakers. Even in a scenario where the Lakers have the worst record in '26/27 (they probably won't, but you never know), there would still be a 47.9% chance the pick lands at fifth overall and goes to Utah. The major downside – and the upside for the Lakers – is if it does fall in the top four, the Jazz only receive the Lakers' 2027 second-rounder.
Another factor in this trade from Utah's side of things that I thought was interesting is also pretty cynical. If the Jazz believe Minnesota going from Russell to Conley is a downgrade — and it is at this point in their careers, which is why the Wolves got second-rounders back — then that increases the odds of the Wolves missing the playoffs. In that scenario, the Jazz would get a lottery pick in 2023 (they control Minnesota's pick due to the Rudy Gobert trade).
They could also reasonably view the deal as a short-term upgrade for the Lakers, which would increase L.A.'s odds of passing Minnesota and Utah in the standings, and thus increase the odds of the Jazz controlling two lottery picks. For the rest of the season, the better the Lakers do and the worse the Wolves and Jazz do, the better it is for the Jazz as far as those first-rounders go.
The Jazz held out for a long time to get the best deal they could. This turned out to be it.
---
The Lakers' perspective:
I think the Lakers made out well in this deal, but it did reduce their draft arsenal to go for a star in the future (that may or may not have been realistic). Still, they upgraded their roster, got younger, and the players make sense for what they need.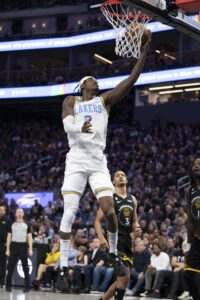 Los Angeles replaced one player who was a poor fit and two little-used reserves for three potential starters; at worst they're rotation regulars. None of the outgoing players were shooters, and they picked up a couple pretty good ones.
Russell, 27, is having a strong year from an efficiency standpoint, shooting career highs from all over the court (54.3% on twos, 38.9% on threes, 85.0% from the line). However, he is not a great rebounder or defender, and his decision-making can be questionable as a lead ball-handler.
That's less of a concern with the Lakers, as he can play alongside James and/or Dennis Schroder. That allows Russell to function both on and off the ball, which is ideal for his skill set. Unfortunately, he sprained his ankle in his fourth game back with Los Angeles, but the injury isn't considered a long-term concern.
As I've mentioned previously, Beasley is a feast-or-famine type shooter who can go off at any given time. It's a bit of roller coaster ride watching him from game-to-game because you never know if he's going to be on that day or not, and he doesn't stop shooting even if he's off.
While he doesn't provide a whole lot else, opponents treat the 26-year-old like a sharpshooter who has to be accounted for at all times, and that creates space for teammates. The Lakers didn't have anyone like that on the roster before the deal, even if Beasley is more of a very willing good shooter than a great one.
Vanderbilt is the player I think fans will be most excited about of the three, despite being the least well known. He brings a much-needed infusion of speed, length, defensive versatility, hustle and rebounding the team has lacked all season.
Still just 23 years old, Vanderbilt instantly becomes the best wing defender the Lakers have had since they decided not to re-sign Alex Caruso in 2021 free agency. His energy is infectious and can swing the tide of games – he was absolutely instrumental in the team's huge comeback victory over Dallas on Sunday.
The three players were teammates on the Wolves from 2020-22, so they already have some built-in chemistry (strangely, Beasley and Vanderbilt have now been packaged together in three separate trades). Only Vanderbilt has a small partial guarantee for next season, which gives the Lakers the flexibility to move on from any of them in the offseason, though I think that's unlikely.
Another positive aspect of the deal is the Lakers added more desirable contracts. Almost their entire roster was on minimum- or maximum-salary deals before the deadline, but now they have more variety in that regard, assuming they retain all three players.
I don't think this trade suddenly transformed the Lakers into title contenders this season, but I do think it made them much better than they were — now and going forward.
My biggest question mark from the Lakers' side is, if this trade was available in February, could they have done it earlier in the season? Because they have to dig themselves out of a hole to climb up the standings, and there aren't many games left in which to do it – a task made even more difficult by the foot injury to James.
---
The Wolves' perspective:
One of the downsides of dealing away multiple starters at once — Patrick Beverley and Vanderbilt last year in the Gobert trade — is that it can erode a team's chemistry. The Wolves clearly got on well last season. That matters for a young team, especially one that historically has been a bottom dweller in the standings.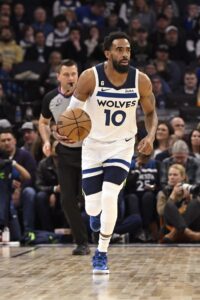 The Gobert trade upended that chemistry, transforming a fun up-and-coming team with low expectations into a win-now team with high expectations. It's pretty clear some of the remaining players were less than thrilled with the deal, especially at the start of '22/23. Some moved on and slowly learned how to work with Gobert. Some did not.
Russell was in the latter group. He frequently had terrible body language this season, specifically anytime Gobert made a mistake (fumbled passes, etc.).
Perhaps more than anything else, this deal was a pretty clear vote of no confidence in Russell. Obviously, the Wolves did not value him at whatever he was asking for in contract extension negotiations.
The Wolves could not have easily cleared a significant amount of cap space in the offseason even if they had let Russell walk in free agency. Instead, they decided to push that decision a year down the line and replace his salary slot with Conley, a mature veteran who should be able to provide leadership for a team that, from the outside looking in, is lacking in that department.
Minnesota is trying to remedy some of the chemistry issues by adding a calming, professional locker-room presence in Conley. The fact that Conley played with Gobert for three seasons was obviously a motivating factor as well. They already have some built-in chemistry, which was clearly lacking with Russell.
He's also a much better decision-maker than Russell on the court, with his assist-to-turnover ratio at 4.4-to-1, which ranks fifth in the NBA (Russell's is 2.31-to-1, which ranks 112th). That's important for a Wolves team that ranks 28th in the league in turnovers per game.
I have a lot of respect for how Conley carries himself, both on and off the court. He was one of the league's most underrated players during his 12 years with Memphis, and his teams have consistently been better when he's playing — that was true for Utah this year too (better on offense and worse on defense, but still plus overall). He has a high basketball IQ and generally doesn't beat himself with careless mistakes.
Alexander-Walker was likely more of a throw-in for salary-matching purposes, but the Wolves will get a closer look at him for the rest of the season (he can be a RFA if they give him a qualifying offer). The former 17th overall pick is having a solid year from an efficiency standpoint and has impressed me in some late-game situations with his defense, even if he wasn't consistently in Utah's rotation.
While I understand the logic behind the move from Minnesota's side of the deal, I also think the Wolves took on the most short- and long-term risk.
Make no mistake, the Wolves knew this was was a downgrade from a production standpoint — that's why they got back three second-round picks in the deal. Considering his age, size (6'1″, 175 pounds) and contract, if Conley declines any further, it will be very difficult to move him next season.
Russell may have his flaws, but he was also clutch this season, having bailed them out on several occasions during second-half collapses (a season-long problem). He was the team's second-leading scorer with Karl-Anthony Towns sidelined for most of the season, and removing him from the equation puts a lot of pressure on the rest of the roster to replace Russell's scoring – the Wolves are just 21st in the league in offensive rating.
The early returns haven't been promising. Minnesota has gone 1-4 since the deal was finalized, though in fairness some key rotation players have been in and out of the lineup.
The key takeaway from the Wolves' end is that they preferred to get something back for Russell rather than losing him for nothing in free agency. Not wanting to make a significant investment in Russell makes sense to me if they didn't view him as a long-term fit. Still, if they miss the playoffs and the Jazz get extremely lucky and that pick lands early, it would be an unmitigated disaster for Minnesota.