1:33pm: The Thunder have hired Donovan, the team announced.
1:30pm: Donovan has resigned from his job at Florida, the school announced, and the statement says he's doing so to take the Thunder job (hat tip to Jeff Goodman of ESPN.com).
12:17pm: League sources tell Wojnarowski that the Thunder have hired Donovan and that's he's signing a five-year deal (Twitter links), though the team has yet to make a formal announcement.
11:58am: It's a "done deal," a source tells Pete Thamel of Sports Illustrated (Twitter link), which jibes with Wojnarowski and Ford's report.
11:45am: The sides are continuing to work on contract terms, a source tells Zillgitt.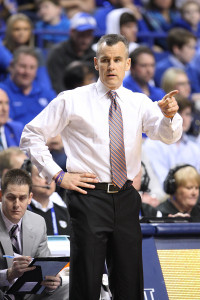 11:01am: University of Florida coach Billy Donovan will sign a multiyear deal to become coach of the Thunder, and the sides are presently finalizing the deal, report Adrian Wojnarowski and Pat Forde of Yahoo! Sports. The news has been expected, as the sides were nearing an agreement late Wednesday, as Marc Stein of ESPN.com reported. Wojnarowski and Forde reported earlier Wednesday that the team was pushing Donovan to take the job and that the coach was enthusiastic about the idea as long as they could agree on terms. The Yahoo! scribes suggested at that point that Donovan was seeking salaries of about $6MM a year from the Thunder, though it's unclear if the team agreed to shell out that sort of money.
Donovan is set to inherit a roster primed to contend for the title next season after Oklahoma missed the playoffs amid an injury-riddled 2014/15. Thunder GM Sam Presti hadn't consulted with Kevin Durant, Russell Westbrook or Serge Ibaka as he negotiated with Donovan, as Wojnarowski wrote Wednesday. Still, he and Ford heard that Durant had formed a positive opinion of the coach after speaking with one of Donovan's former players who's now in the NBA. Durant's opinion looms large, as he's set to become a free agent after next season, so Donovan will enter the job facing enormous pressure.
The Thunder quickly zeroed in on Donovan after Connecticut's Kevin Ollie, reportedly the team's No. 1 target, called Presti to tell him he wouldn't take the job. Spurs assistant Ettore Messina was also reportedly a candidate, though Donovan was the front-runner once Ollie pulled out, which happened at about the same time the team fired former coach Scott Brooks. Presti and Donovan have long been friends, and Presti previously hired two members of Donovan's staff to work within the Thunder organization.
Donovan, who turns 50 next month, has spent the past 19 years at Florida and won two national championships, mentoring several players who went on to success in the NBA, including four who earned at least $12MM this season. A feeling that Donovan was ready to jump at the right opportunity to coach an NBA team was growing around the league this spring, as Stein reported then, adding Wednesday that the power and comfort that staying at Florida would entail loomed as the largest hurdle to an NBA jump. Donovan has been making more than $4MM a year at Florida, but there's no buyout necessary for him to escape his contract with the school, according to Jeff Zillgitt of USA Today.
The coach temporarily left the school in 2007, shortly after winning his second national title, to coach the Magic, but reneged on the deal and returned to Florida, which imposed a five-year moratorium on his pursuit of any NBA jobs. That's long since expired, and had lapsed prior to last year, when Donovan rejected what Stein described as serious interest from the Cavaliers and the Timberwolves. The Nuggets and Magic planned to pursue Donovan this year, Stein reported in early April, but neither seemed to come after him with the conviction that the Thunder did.
Photo courtesy of USA Today Sports Images.