The long-term outlook for Reggie Jackson took a dramatic turn at the trade deadline when he was dealt from the Thunder to the Pistons, who immediately installed him as their starting point guard. By season's end, Detroit had emerged as the clear frontrunner for Jackson's services as the restricted free agent enters his prime. Jackson ranks third among point guards on Hoops Rumors' 2015 Free Agent Power Rankings behind only Goran Dragic and Rajon Rondo, whose stock has dipped after his disastrous partial season with the Mavericks.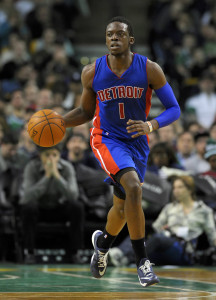 There was plenty of uncertainty surrounding Jackson as he entered the 2014/15 season with Oklahoma City, with the expectation that Jackson could command a yearly salary averaging $13MM or $14MM when he entered the free agent market. Given its salary commitments to superstars Kevin Durant and Russell Westbrook as well as Serge Ibaka, Oklahoma City seemed highly unlikely to match an offer sheet for Jackson.
Jackson started just 36 games in his career prior to the season. Even so, the projections of his future value were reinforced by his play when given the opportunity to be a floor leader. With Westbrook sidelined by an injury, Jackson averaged 19.5 points, 7.5 assists and 5.3 rebounds during the month of November. Once Westbrook returned, Jackson found himself in a backup role again and his relationship with his teammates deteriorated. Jackson asked for a trade and got his wish when the Thunder shipped him to the Pistons, who had lost Brandon Jennings to a season-ending Achilles' tendon injury.
Following a slow start that included a 10-game losing streak which knocked the Pistons from playoff contention, Jackson emerged as an offensive force in coach Stan Van Gundy's pick-and-roll attack. He developed chemistry with franchise cornerstone Andre Drummond in the final 16 games while averaging 20.0 points, 11.0 assists and 4.8 rebounds and shooting 49% from the field. Van Gundy, who also doubles as the team's president of basketball operations, made it clear that he views Jackson as his starting point guard going forward and plans to match any offer that may come Jackson's way. The Pistons will not have any difficult retaining Jackson from a salary-cap standpoint, as they have approximately $27.9MM in guaranteed salary commitments next season.
That may not deter a potential suitor from trying to pry Jackson away from Van Gundy's grasp. The Nets and Pacers reportedly were close to dealing for Jackson before he wound up in Detroit, and the Kings were also interested. The Knicks are believed to have a strong interest in Jackson as well, though they may be more focused on another Pistons free agent, Greg Monroe.
The Aaron Mintz client has his drawbacks, particularly at the defensive end. Jackson was ranked 41st among point guards on ESPN's Defensive Real Plus/Minus rankings and has received a minus rating in all four of his seasons in Basketball-Reference's Defensive Box Plus/Minus evaluations.
That won't deter the Pistons from doing everything possible to keep Jackson, who hinted about his intentions of staying in Detroit right before the season ended. He told the team's beat reporters he planned to stay in frequent contact with his teammates and organize summer workouts with them. He also feels Van Gundy's coaching will make him a high-level point guard. It's possible that Jackson could sign a deal with an opt-out clause to take advantage of the anticipated jump in the salary cap when the league's new TV contract kicks in during the summer of 2016. In any case, it would be a surprise if Jackson isn't wearing a Pistons uniform next season.
Photo courtesy of USA Today Sports Images.