Stretch your imagination for a moment to envision the Thunder winning the lottery tonight, as they have only a slim 0.5% chance of doing. The first thought in the minds of GM Sam Presti and other Oklahoma City higher-ups will surely be one of elation. The second thought may force them to swallow hard.
The rookie scale contract for the No. 1 overall pick this year will be worth more than $25.7MM over its four-year span if his team pays him 120% of the rookie scale amount, as is almost certain to happen. That's about $16.1MM more than the approximately $9.6MM the rookie deal for the 14th overall pick will likely be worth. Naturally, that would be water under the bridge if the top pick turns out to be a superstar, but it seems that for every Anthony Davis, there's an Anthony Bennett. The costs increase with each rung up the lottery ladder, and while most teams would surely celebrate a leap in draft position tonight, a higher pick carries consequences, particularly for teams like the Thunder, who already seem destined to pay the tax next season.
Below is a look at each lottery pick and the cost of the rookie scale contract associated with it, assuming that the team will pay the standard 120% of the scale amounts. Only the first two seasons of these deals are guaranteed, but it would be quite surprising if a team declined either its third or fourth year team option on its contract with a lottery pick.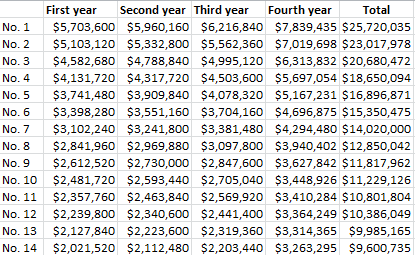 For more on the lottery, check out each team's odds for each pick, and read our Hoops Rumors Glossary entry to see how the lottery works.
Larry Coon's Salary Cap FAQ was used in the creation of this post.