Guaranteed Contracts
Non-Guaranteed Contracts
Options
Restricted Free Agents/Cap Holds
Kawhi Leonard ($7,235,148) — $4,433,683 qualifying offer
Cory Joseph ($5,058,153) — $3,034,892 qualifying offer
Aron Baynes ($3,946,300) — $2,596,250 qualifying offer
Unrestricted Free Agents/Cap Holds
Tim Duncan ($15,542,169)
Manu Ginobili ($10,500,000)
Danny Green ($7,647,500)
(Robert Horry $6,897,000)1
Marco Belinelli ($3,735,875)
Jeff Ayres ($2,377,375)
No. 26 pick ($991,600)
(Livio Jean-Charles $957,200)2
Matt Bonner ($947,276)
(Tracy McGrady $947,276)1
(Glenn Robinson $947,276)1
(Damon Stoudamire $947,276)1
(Nick Van Exel $947,276)1
(Jacque Vaughn $947,276)1
Draft Picks
1st Round (26th overall)
2nd Round (55th overall)
Cap Outlook
Guaranteed Salary: $34,159,326
Non-Guaranteed Salary: $1,185,784
Options: $0
Cap Holds: $54,332,375
Total: $89,677,485
It seems like the Spurs have been competing in the Finals or Western Conference Finals every season since Tim Duncan arrived back in 1997/98, but there were three times before this year when Duncan's Spurs lost in the first round. It's the second one that's perhaps most instructive. The 2008/09 Spurs managed to go 54-28 in the regular season with Manu Ginobili around for only 44 of those games and none in the playoffs. They fell in five games to the sixth-seeded Mavs in the first round, and in the summer that followed, San Antonio signed Richard Jefferson to a four-year deal worth nearly $39MM. The Spurs put up their worst record of the Duncan era the next season and grew to regret their rare signing of a significant free agent.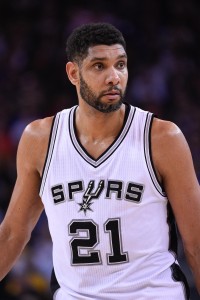 Now, it appears the Spurs are plotting an even more serious foray into the free agent market, having reportedly made Marc Gasol their top target most of this season and more recently developed apparent mutual interest in LaMarcus Aldridge. The dynamics are somewhat different now than they were in 2009, since Duncan and Ginobili are six years older and that much closer to the end. Ginobili suggested this week that he's contemplating retirement more seriously than ever, and that his decision will hinge on Duncan's. Both are set for free agency this summer, ostensibly making it that much easier for them to say goodbye to the NBA. Still, there were questions even in 2009 about how much longer either of them would last, or at least remain productive, and both were integral parts of San Antonio's fifth championship in 2014, when Jefferson was already long gone.
Duncan and Ginobili — and Tony Parker, who turns 33 this month — won't be around forever, but it wasn't a free agent signing that took the Spurs from two first-round ousters in three years back onto the champion's podium. It's chiefly the shrewd acquisition of the draft rights to Kawhi Leonard in exchange for valued role player George Hill that put the Spurs back in title contention, though no one would have known it at the time of the trade in 2011.
A run at free agency this year has been in the works awhile. Spurs coach/president Gregg Popovich more or less acknowledged that this week in his end-of-season press conference, saying that he, GM R.C. Buford and company put this group together with the idea that this summer would represent an opportunity to make key decisions. San Antonio would be entering the offseason with even more uncertainty if Parker hadn't signed a deal last summer to extend his contract, which was to have expired this year. He's one of the few Spurs virtually guaranteed to return, and Leonard is, too, even though he's about to enter restricted free agency. That Leonard didn't sign an extension of his own in the fall has as much to do with the utility of keeping his cap hold small as anything else, and he reportedly has no plans to seek offer sheets. Even if he did, San Antonio would be expected to match, and as it is, it appears Leonard is destined to continue growing into the centerpiece of the Spurs.
The challenge for Popovich and Buford is in how to surround the Defensive Player of the Year with the talent necessary to keep the Spurs in the title hunt for next season and for years to come. It'll require some cap gymnastics this summer. If Duncan and Ginobili retire, the Spurs could renounce their rights as well as the rights to every other free agent except Leonard, release Reggie Williams and his non-guaranteed contract, and take a draft-and-stash prospect at No. 26 and get him to agree in writing not to sign in 2015/16. That would leave the Spurs with $44,545,032 against the cap, a total that consists of the team's guaranteed salary commitments, Leonard's cap hold, and six additional cap holds equal to the rookie minimum salary that account for open roster spots. The cap is projected to come in at $67.1MM, so that would leave $22,554,968, enough to sign just about any free agent to a max deal, according to our max-salary approximations. There would be roughly $3.5MM worth of breathing room between the max for Aldridge and Gasol, who fall in the 30% max tier, and the hilt of San Antonio's capacity to clear cap room without a trade.
Of course, the Spurs might like to draft someone who can contribute immediately, or at least be a part of the roster next season, and Duncan and Ginobili might want to come back at more than the minimum salary. Those hypotheticals make the summer ahead especially unpredictable. It's quite conceivable that Duncan and Ginobili have already signaled to the Spurs what they'd like to receive on their next deals if they were to play again. The cheap three-year, $25MM contract that Dirk Nowitzki signed with the Mavs last summer perhaps sets the bar for Duncan, though it's tougher to find an analogy for Ginobili. A deal with a starting salary in the range of the full $5.464MM mid-level exception would allow the Argentinian legend a concession to the only NBA franchise he's known without forcing him to play for a pittance, though that's only my speculation. Reasonable deals for Duncan and Ginobili such as those would approach a combined total of $14MM for next season. That would knock the Spurs out of the hunt for any sort of marquee free agent unless they can find trade partners willing to take on some combination of Tiago Splitter, Boris Diaw, Patty Mills and Kyle Anderson without giving up salary in return.
None of this accounts for Danny Green, either. He was playing in the D-League when the Spurs signed him in March of 2011, and little more than four years later he's a sought-after "three-and-D" type whom at least one executive wouldn't mind paying $6MM a year, as Michael Scotto of SheridanHoops reported. It wouldn't be altogether shocking for the soon-to-be 28-year-old who's shot 42.3% over his four full seasons as a Spur to command more than that. No one would pass up a star for him, but he's been an indelible part of the fabric as a starter on four straight title-contending rosters.
Marco Belinelli has played nearly as many minutes as Green over the past four regular seasons, and he's another sharpshooting weapon who can spread the floor in San Antonio's intricate offense. His two finest defensive seasons have come in a Spurs uniform, as Basketball-Reference's Defensive Box Plus/Minus data shows, though he wasn't as sharp on either end of the court this year as he was in 2013/14, and he saw his fewest minutes per game since 2009/10. He'll turn 30 next March, and unless he, too, wants to make a sacrifice and perhaps even take the minimum to stay with the Spurs, an end to his tenure in San Antonio seems a decent bet.
Perhaps a more difficult choice revolves around Cory Joseph. Other teams appear to be circling the waters for the point guard who capably handled the primary backup duties early this season while Mills recovered from shoulder surgery. The Spurs have the power to match competing bids for Joseph, but only if they tender a qualifying offer of more than $3MM. That would be a burdensome price to pay for a third-stringer if he were to simply accept that qualifying offer. Making Joseph a restricted free agent and retaining his rights would make more sense if the team trades Mills, though Mills' salary for next season isn't much more than the value of Joseph's qualifying offer. So, there's little sense in trading Mills to clear cap room if the Spurs intend to make Joseph a restricted free agent.
A max deal is waiting for Leonard, but Duncan and Ginobili hold the keys to the San Antonio summer, a status they've earned in spades. Retire, and the Spurs will have the capacity to sign a top free agent target without trading anyone. Come back, and other key Spurs will have to go if a major name is to join the team. San Antonio's tradition of winning has made the club attractive to some of the best free agents in this year's class. Still, given the Jefferson fiasco, it's worth wondering if the Spurs would prefer instead to trade for the next Leonard, a young talent they could mold to their system from the start, rather than risk disrupting their culture by adding a star who would demand a prominent place in the team's hierarchy. Finding gems like Leonard is by no means easy, and few teams would have even a moment's hesitation if someone like Aldridge or Gasol came calling. But the Spurs wouldn't be who they are if they hadn't outsmarted the competition and made unconventional choices. Another surprise for the rest of the league may soon be on its way from Alamo country.
Cap Footnotes
1 — See our glossary entry on cap holds for an explanation why these players technically remain on the books.
2 — The Spurs drafted Jean-Charles 28th overall in 2013 but have yet to sign him. San Antonio can keep his draft rights but remove his cap hold from its books if he and the team produce a written agreement that he won't sign during the 2015/16 season.
The Basketball Insiders Salary Pages were used in the creation of this post. Photo courtesy of USA Today Sports Images.