Guaranteed Contracts
Non-Guaranteed Contracts
Options
Restricted Free Agents/Cap Holds
Unrestricted Free Agents/Cap Holds
Tyson Chandler ($22,270,331)7
Rajon Rondo ($16,441,500)
No. 21 pick ($1,207,500)
J.J. Barea ($947,276)
Richard Jefferson ($947,276)
Greg Smith ($947,276)
Amar'e Stoudemire ($947,276)
Charlie Villanueva ($947,276)
Draft Picks
1st Round (21st overall)
2nd Round (52nd overall)
Cap Outlook
Guaranteed Salary: $28,064,039
Non-Guaranteed Salary: $845,059
Options: $13,770,915
Cap Holds: $44,655,711
Total: $87,335,724
Mavericks owner Mark Cuban undoubtedly didn't start the season with the thought that it would end with a meek 4-1 series loss to archrival Houston in the first round of the playoffs. Such an ending had seemingly become much less likely when the Mavs traded for Rajon Rondo in December. Instead, Rondo didn't play like the top-tier point guard he used to be, clashed with coach Rick Carlisle, and came to a mutual agreement with the team to part ways midway through that Rockets series. The most significant move Dallas made this past season could scarcely have turned out more poorly. It wasn't the true worst-case scenario, since the Mavs made the playoffs and avoided having to forfeit their would-be lottery pick per the terms of the Rondo trade, but times have changed from when it appeared that Cuban would do whatever was necessary to keep the starting lineup together for next season.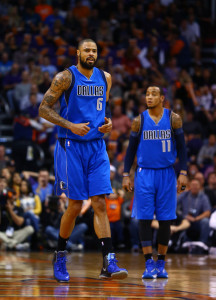 Devin Harris was an All-Star in 2009 and is signed through 2017/18, but his time as an elite point guard was fleeting, and it would be surprising to see the Mavs settle on him as the starter. The free agent market is thin for point guards this summer, with Goran Dragic and Reggie Jackson strong bets to return to the Heat and Pistons, respectively. The Suns will surely be loath to let Brandon Knight go after giving up their protected first-rounder from the Lakers in the trade to acquire him, so it would take a bloated offer sheet for Phoenix to even consider not matching.
Dallas could travel the same route it took with Chandler Parsons last summer and give Knight a deal close to the maximum salary with a player option after year two, one that the Rockets found too player-friendly to match. Paying at or near max money to two players who aren't truly worthy of those salaries comes with its consequences, though Knight, like Parsons last year, is only eligible for the 25% max, not the 30% or 35% the NBA reserves for longer-tenured veterans. The catapulting salary cap would render such a deal much less burdensome in years two and three, so it's a strategy to consider. The Mavs also have a chance to evoke Parsons memories if they chase Patrick Beverley, which would entail a bid for a Rockets restricted free agent a second year in a row. There's mutual interest between Houston and Beverley in a new deal, though again, the Mavs could shoehorn their way into consideration with an offer to overpay him.
Still, there are legitimate questions about whether Beverley or Knight can play the point at an elite level. The trade market might be more fruitful, with Ty Lawson the most obvious candidate. Deron Williams could probably be had, but finding the salaries to match wouldn't be easy, and Nets coach Lionel Hollins put it bluntly this weekend when he said that Williams isn't a franchise player anymore. Maybe the Bulls would entertain a Derrick Rose deal if they can't get past a weakened Cavs team in the playoffs, but his salary and questions about his status as a franchise player are complicating factors, too.
The frontcourt is a different story, and there appears to be a level of mutual interest between the Mavs and both LaMarcus Aldridge and DeAndre Jordan. The most natural fit would be Jordan, who would give the Mavs a chance to upgrade from soon-to-be free agent Tyson Chandler with a younger, more athletic version of Chandler. Aldridge is generally the more well-regarded player, but he plays the same position as franchise icon Dirk Nowitzki, who's still perhaps the team's best player. It would be difficult for the Mavs to get by defensively with either Aldridge or Nowitzki at center or small forward, so it's tough to envision them playing side-by-side for significant stretches. The Mavs, with only about $28MM in guaranteed salary against a projected $67.1MM cap, technically have the wherewithal to sign both, but Raymond Felton is almost certain to opt in for more than $3.95MM, and if Monta Ellis opts in to $8.72MM, the idea of signing two max-level free agents is essentially kaput barring salary-clearing trades. Regardless, signing both Aldridge and Jordan would be overloading the frontcourt at the expense of the guard positions, and it would more than likely require the team to renounce its rights to Ellis if he does opt out.
An Ellis opt-out would present the Mavs with another conundrum. He led the team in scoring but slumped in the second half and shot an atrocious 16.9% from three-point range in regular season games after the All-Star break. He canned 11 of 30 three-point attempts in the playoffs, but outside shooting has never been his calling card. That's an inauspicious trait for a shooting guard who'll turn 30 when next season begins, so a long-term deal at market value would be troublesome for the Mavs. Still, Ellis has probably played his way into making eight-figure salaries again after two years of pulling in an average of a little more than $8MM with the Mavs. Even a starting salary of $14.63MM, the most Dallas could give him through his Early Bird rights, wouldn't impinge upon the Mavs, at least in a vacuum, as long as he agrees to a short-term arrangement. Still, if the team signs a scorer at another position, perhaps Dallas would look harder at lower-cost alternatives at shooting guard, like Arron Afflalo, Lou Williams and Wesley Matthews.
Cuban acknowledged that he erred when he let Chandler go after one season in 2011, but a repeat wouldn't necessarily be a mistake this time around. The 32-year-old was healthy this year, playing in 75 games, and he delivered the third-best rebounding season of his career while finishing 10th in Basketball-Reference's Defensive Box Plus Minus among centers who played at least 1,000 minutes. Still, Jordan was fifth in that metric and the league's leading rebounder, so the chance to upgrade would be difficult for the Mavs to pass up. Chandler probably wouldn't accept a backup role or the salary that would come with it if Jordan came to take his place. Jordan probably represents the Mavs' best shot at landing a defensive anchor who's clearly superior to Chandler, so if the Clippers re-sign their center, the wisdom of re-signing Chandler becomes a matter of his willingness to sign a short-term deal, just as with Ellis.
Felton, whom the Mavs took on in order to reacquire Chandler last summer, and Harris were the only two Mavs reserves who weren't making the minimum salary at the end of the season. That'll have to change if the Mavs want to retain the best of their bench, particularly Al-Farouq Aminu, who's opting out. He and the Mavs have mutual interest in a new deal, but the Celtics intend to wedge their way into the discussion, and other opposing teams will probably follow for the versatile forward who proved an eminently valuable defender. The Mavs only have his Non-Bird rights, and if they open cap space, they'd either have to use a chunk of that or the $2.814MM room exception to re-sign Aminu, the latter of which would probably require the Raymond Brothers client to take a discount from market value.
The same could be said for Amar'e Stoudemire, who still averaged double-digit scoring even in just 16.5 minutes per game down the stretch for Dallas. J.J. Barea has hinted that it won't be as difficult for the Mavs to re-sign him this time around as when he bolted for a four-year, $18MM deal in 2011, so perhaps Dallas could retain him using Non-Bird rights for a 20% raise on the minimum salary. Charlie Villanueva was a long shot to make this year's team on a non-guaranteed minimum-salary deal, but he did so and averaged 6.3 PPG in 10.6 MPG, probably enough to warrant a guaranteed minimum salary arrangement this time around, and he's spoken of a desire to keep working with Carlisle.
The Mavs still haven't landed the marquee free agent they've hoped for ever since breaking up their 2011 championship team, the Parsons signing notwithstanding, and they still haven't won a playoff series since walking off the floor with the NBA title. Dallas nonetheless has the makings of an attractive destination, with no state income tax, relatively mild winter weather and, most importantly, an existing roster that won 50 games this past season. The ultimate decisions rest with the elite free agents, and not the Mavs, so if they overlook Dallas again, there will be more pressure than ever on Cuban and GM Donnie Nelson to make creative moves to maintain a winning team around the aging Nowitzki.
Cap Footnotes
1 — The Mavs waived Mekel in October and used the stretch provision to spread his guaranteed salary for 2015/16 over a three-year period. The number represented above is the amount owed to Mekel in 2015/16 following the application of the provision.
2 — Powell's salary becomes fully guaranteed if he remains under contract through opening night.
3 — The cap hold for Ellis would be $11,336,000 if he opts out.
4 — The cap hold for Felton would be $7,505,595 if he opts out.
5 — The cap hold for Aminu would be $947,276 if he opts out.
6 — The cap hold for James would be $947,276 if the Mavericks decline to make a qualifying offer.
7 — The cap hold for Chandler will be the lesser of $22,270,331 and the NBA's maximum salary for a veteran of 10 or more seasons.
The Basketball Insiders salary pages were used in the creation of this post. Photo courtesy of USA Today Sports Images.