Guaranteed Contracts
O.J. Mayo ($8,000,000)
Ersan Ilyasova ($7,900,000)
Zaza Pachulia ($5,200,000)
Jabari Parker ($5,152,440)
Jerryd Bayless ($3,000,000)
John Henson ($2,943,221)
Michael Carter-Williams ($2,399,040)
Miles Plumlee ($2,109,294)
Giannis Antetokounmpo ($1,953,960)
(Larry Sanders $1,865,546)1
Tyler Ennis ($1,662,360)
Damien Inglis ($855,000)
Johnny O'Bryant ($845,059)
Non-Guaranteed Contracts
Options
Restricted Free Agents/Cap Holds
Other Cap Holds
Draft Picks
1st Round (17th overall)
2nd Round (46th overall)
Cap Outlook
Guaranteed Salary: $43,885,920
Non-Guaranteed Salary: $947,276
Options: $4,250,000
Cap Holds: $4,169,203
Total: $53,252,399
The league-worst 15-67 season of 2013/14 makes this year's .500 mark look like a revelation, but the bounceback season the Bucks had this year isn't quite as impressive in the context of the 38-44 record the team compiled just two years ago. The team is largely swimming in the same waters it has since 2008/09. That was the first of a six-season stretch in which Milwaukee has finished within 10 games above or below .500 every year except last season's low point. Still, the partnership of Wesley Edens, Marc Lasry, Jamie Dinan atop Milwaukee's ownership structure appears committed to breaking the franchise out of mediocrity, so there's reason for optimism.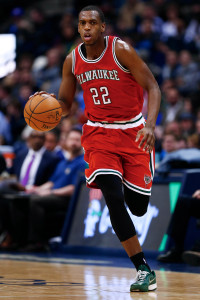 The team enters the offseason with only one player certain to hit free agency. The secret's out about Khris Middleton, who led the Bucks in scoring during their six-game first-round loss to the Bulls. The Bucks reportedly insisted on Middleton's inclusion in the 2013 Brandon Jennings/Brandon Knight swap, and he's proven significantly more than a throw-in the past two seasons in Milwaukee. He's canned 41.0% of his three-pointers over that span, and he averaged 13.4 points in 30.1 minutes per game this season. ESPN's Defensive Real Plus/Minus metric rates him as the league's top shooting guard in that category, but he primarily played power forward this season, as Basketball-Reference shows. Basketball-Reference lists him with a rather pedestrian 0.5 Defensive Box Plus/Minus but 22nd among all players who saw at least 1,000 minutes this season in defensive win shares.
The 23-year-old's value, never mind his position, is hard to pinpoint, and the power the Bucks have to match all offers for him makes next year's salary even more unpredictable. Michael Scotto of SheridanHoops and Gery Woelfel of The Journal Times have each heard from a group of multiple executives who came up with two different consensuses. Scotto cited estimates of around $10MM, while Woelfel heard expectations of $8MM salaries.
The Bucks are likely to match offers from opposing teams for the former 39th overall pick, but it seems there's just enough dichotomy in the way front offices view him that it's conceivable that a team comes in with an offer for more than what Milwaukee could stomach. The Mavs set the bar with their near-max offer sheet to Chandler Parsons last summer, one that included an opt-out after two years and a 15% trade kicker. Middleton wasn't as productive this season as Parsons was last year, at least not offensively, but the Bucks have to gird themselves for the possibility of a bloated offer. It no doubt helps Milwaukee that Middleton's agent, Mike Lindeman, works for Excel Sports Management, the company founded by Jeff Schwartz, who represents coach Jason Kidd. The coach has plenty of say in personnel decisions, and Middleton said recently that he'd like to re-sign in spite of some earlier doubts about the team's decision to trade away Knight at the deadline this year. Either way, Middleton made clear his distaste for the drawn-out process that Eric Bledsoe and Greg Monroe went through last summer, so it seems we'll know by the end of July where Middleton will play and what he'll be making.
Milwaukee will know by a month before then whether Jared Dudley will opt in, though it seemed obvious that Dudley would opt in when the Bucks traded for him last summer, a deal in which Milwaukee received a first-round pick largely for taking on Dudley's contract. The pact that proved troublesome for the Clippers, who were pressed against their hard cap, instead proved a rather fair arrangement for Milwaukee. His raw numbers didn't change much, but back at full health this season, the 29-year-old Dudley rebounded from career lows in PER, win shares and Box Plus Minus, according to Basketball-Reference. Kidd, too, will apparently play a major part in his free agency this summer, as Dudley said he's the primary reason he's willing to take a discount on a long-term deal to stay in Milwaukee. He'd have to opt out for that to happen this year, and it's unclear just how he and agent Mark Bartelstein define discount, but it appears a would-be burden will turn into a bargain.
Dudley wouldn't be alone among Bucks on team-friendly deals. The Bucks have six players whose rookie scale contracts carry through next season, and they're in line to draft a seventh in June. It's part of the financial flexibility the Bucks garnered when they gave up Knight, a move for the long-term that stands apart from the sort of trade that former owner Herb Kohl might have green-lighted to give this year's team a better chance at winning a playoff series or two. Knight will probably end up with a salary next season that's at or near twice what Michael Carter-Williams, Miles Plumlee and Tyler Ennis, the three players the Bucks acquired in return, will make in 2015/16. None of them can produce like Knight, at least not yet, but the Bucks instead have a Rookie of the Year in Carter-Williams, the starting center from last year's 48-win Suns team in Plumlee, and an attractive mid-first-round draft product in Ennis, all at a cheaper total cost.
The Bucks have a chance at serious cap room this summer as a result. Milwaukee will have about $52.3MM committed against a projected $67.1MM salary cap if Dudley opts in, they hold off on officially signing Middleton, and they keep their first-round pick. That means the worst-case scenario involves them having nearly enough cap flexibility to make a maximum-salary bid on a free agent eligible for the 25% max, and it wouldn't be difficult for the Bucks to find a taker for that first-rounder or another contract if they want to get to the full 25% max. They could even get in the market for Knight, though that would make little sense unless they envision a long-term future with a pairing of Carter-Williams and Knight in the backcourt. Other options include Tristan Thompson and Enes Kanter, while attractive unrestricted alternatives who'd come at less than the 30% or 35% max, like Omer Asik, Robin Lopez, would probably be easier to land. Thompson, Kanter, Asik and Lopez would help the team fill the hole in the middle left from the Larry Sanders debacle, though the Bucks may feel that John Henson, who averaged 11.3 rebounds and 2.4 blocks per 36 minutes in the playoffs, deserves a long look as a starter in the final year of his rookie scale deal.
The team's cap flexibility, extra first-rounder and tons of young talent also position it well to trade for a star. The Bucks could offer a team more NBA-ready talent than the Sixers, who chiefly have draft assets to spend, and the presence of two potential budding stars in Jabari Parker and Giannis Antetokounmpo could make Milwaukee a more attractive trade destination than the Celtics to a marquee trade candidate who has leverage. Still, true stars aren't often available, so the Bucks would have to be patient with such an approach, and with Parker as the centerpiece, it's quite possible that Milwaukee can build a contender from within.
Parker doesn't have the star potential of Andrew Wiggins, the player taken just before him, or even Joel Embiid, the player whom the Sixers drafted immediately after. Parker is also coming off a torn ACL, and Antetokounmpo is still a work in progress. Yet with both on rookie scale contracts for at least two more seasons, the Bucks have an opportunity to chase more expensive talent either now or in the summer of 2016 as part of their quest to become the true title contenders they haven't really been since the 1980s. The future of the Bucks in Milwaukee is somewhat uncertain as talks about public funding for a new arena proceed against the urgency of an NBA-imposed timetable that demands progress. But the future of the Bucks on the court is such that the team can continue to focus squarely on a promising tomorrow without the need for bold moves this summer.
Cap Footnotes
1 — The Bucks waived Sanders in February and used the stretch provision to spread his remaining guaranteed salary over the next seven seasons.
2 — The cap hold for Dudley would be $8,075,000 if he opts out.
3 — Middleton's cap hold would be $947,276 if the Bucks decline to tender a qualifying offer.
The Basketball Insiders Salary Pages were used in the creation of this post. Photo courtesy of USA Today Sports Images.