Over the past several weeks, Eddie Scarito of Hoops Rumors has been conducting a community mock draft with our readers, opening up each first-round pick to a vote. The latest results of that mock draft, which is now nearly in the books, can be found right here.
With the 2016 NBA draft right around the corner, it's time to reveal our own mock draft. Chris Crouse and Arthur Hill of Hoops Rumors have tackled the 2016 first round, alternating picks and providing their thoughts and rationale for each selection.
Our mock draft doesn't feature trades, and in most cases, Chris and Arthur make their case for the prospect they believe a team should pick, rather than simply trying to predict what will happen. Those factors mean that the actual draft board on Thursday night could look a whole lot different from the one we have listed below, so feel free to weigh in below in the comments section with your own thoughts, opinions, and predictions.
Here are the results of Hoops Rumors' 2016 NBA mock draft:
1. Philadelphia 76ers: Ben Simmons, F (LSU)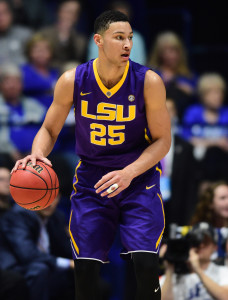 CC: Simmons is the franchise player whom the Sixers have been angling for since the process began and there's no question he should be the pick. He's a 6'10" phenom who can handle the rock and glide up and down the court with ease, as I discussed in my Prospect Profile of the 19-year-old. Simmons should immediately contribute in Philadelphia and he'll likely be the front-runner for the Rookie of the Year award.
2. Los Angeles Lakers: Brandon Ingram, SF (Duke)
AH: With Simmons gone, this is an easy choice for L.A. The Lakers may prefer to trade the pick to speed up the rebuilding process, but if they hold onto it, Ingram is a perfect fit with their young core. The 6'9″ forward is a born scorer who averaged 17.3 points per game and shot 41% from 3-point range in his single season at Duke. He may be more ready for the NBA game right away than Simmons is and will certainly be a Rookie of the Year candidate.
3. Boston Celtics: Dragan Bender, PF (Croatia)
CC: This is the spot where the draft starts to get interesting. The Celtics could go a few different directions with this pick. Trading the selection would be one and I wouldn't be surprised if they send the No. 3 overall pick to Philadelphia in a deal for Jahlil Okafor. Assuming the C's keep the selection, Bender would be a nice fit. Boston lacks a franchise player and Bender could be just that if he reaches his potential. GM Danny Ainge can afford to swing for the fences given the team's collection of assets.
4. Phoenix Suns: Marquese Chriss, PF (Washington)
AH: The hype around the super-athletic freshman continues to grow, and it may propel him to the No. 4 pick. The 6'10" Chriss is an explosive leaper and effective rebounder who has drawn comparisons to Shawn Kemp, but he also has stretch four potential, shooting 35% from 3-point range with the Huskies. The Suns are set in the backcourt with Eric Bledsoe and Brandon Knight, and they own picks No. 13 and 28 in the first round, so they can afford to gamble on a raw talent like Chriss.
5. Minnesota Timberwolves: Jamal Murray, G (Kentucky)
CC: Murray may be the best scorer in the draft, and there's a decent chance he'll be gone by the No. 5 pick. The Timberwolves also reportedly have interest in trading this pick to the Bulls as part of a package for Jimmy Butler, and if the Wolves can find a way to do so without including Andrew Wiggins (or, of course, Karl-Anthony Towns), they should pull the trigger. If the team holds onto the selection though, Murray would be a great fit for the Wolves, as we discussed in his Prospect Profile.
6. New Orleans Pelicans: Buddy Hield, SG (Oklahoma)
AH: With Eric Gordon possibly leaving in free agency, the Pelicans find a perfect replacement in this sharp-shooting senior Sooner. The Wooden Award winner averaged 25 points per game and shot 46% from 3-point range. Outside shooting is becoming a more valuable commodity in the NBA as more teams move to small-ball lineups and try to create space on offense. Hield developed into a star in the college game and has the ability to do the same in the pros.
7. Denver Nuggets: Jaylen Brown, SF (California)
CC: The Nuggets are starting to build a promising team with a young core that includes Nikola Jokic and Jusuf Nurkic in the front court, and the explosive Emmanuel Mudiay running the point. The team would be ecstatic to have the uber-athletic Brown fall to them at No. 7. The small forward could end up being one of the best players in the draft if he improves his jump shot — he made just 29.4% of his 3-point shots during his lone season at California. However, Brown's ability to get to the basket should allow him to have a place in Denver's rotation upon entering the league.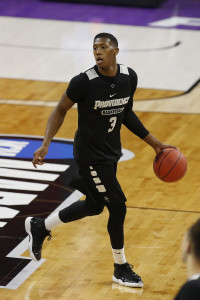 8. Sacramento Kings: Kris Dunn, PG (Providence)
AH: Given Rajon Rondo's looming free agency and Darren Collison's legal troubles, point guard is suddenly a position of concern in Sacramento. The Kings are fortunate to land the top pure point guard in the draft without having to move up from No. 8. Dunn stands out for his quickness, floor vision, scoring ability and overall athleticism. Assuming the Kings don't trade DeMarcus Cousins, he should be very happy to team up with Dunn.
9. Toronto Raptors: Dejounte Murray, G (Washington)
CC: Nearly every mock draft has the Raptors taking a big man and they could certainly use one since they will likely lose Bismack Biyombo to free agency. The team is set in the backcourt, provided DeMar DeRozan re-signs. Kyle Lowry, who turned 30 this past season, has two years and $24MM left on his current deal. That's a bargain, but it fair to wonder if Lowry has reached his peak. If he keeps up his level of play, he'll be looking for a max contract at age 32 when he becomes an unrestricted free agent. That'll be a steep price even if he's still a top-10 point guard in the league at that time. Murray has the upside to be a better player than Lowry over the course of his career, and shrewd GMs like Masai Ujiri are always looking at the big picture. The Raptors are only picking this high in the draft because they were able to fleece the Knicks in the Andrea Bargnani deal and they likely won't see a top-20 pick over the next several years. They should be looking to acquire a player with star potential and Murray fits the bill. He will need time and development in order to reach that potential, but the Raptors are in good position to wager that he does.
10. Milwaukee Bucks: Skal Labissiere, PF/C (Kentucky)
AH: In need of a shot blocker, Milwaukee gambles on the 7'0″ freshman out of Kentucky, whose draft stock has been rising after a disappointing season with the Wildcats. Labissiere needs to gain weight and add muscle to battle with NBA big men, but his speed and athleticism makes him a risk worth taking at No. 10.
11. Orlando Magic: Jakob Poeltl, C (Utah)
CC: If Poeltl falls to No. 11, it'll be a testament to how far the small-ball pendulum has swung. The league is devaluing the center position and Poeltl is the best one in the draft. The 20-year-old possesses excellent touch around the basket and a nice mid-range game. He can't consistently knock down jumpers outside the paint, but he'll excel in the pick-and-roll, and at 7'1″, he could become a monstrous defender. New coach Frank Vogel has showered incumbent center Nikola Vucevic with praise, claiming that Vucevic could be the team's defensive enforcer under the right tutelage. I don't know if I buy that, as Vucevic was the 47th-best defensive center according to ESPN's Real Defensive Plus/Minus, and that side of the ball has never been his strength. I was tempted to go with Marquette's Henry Ellenson here, but Poeltl's potential to be a Tyson Chandler-level defender makes him the selection for Orlando.
12. Utah Jazz: Henry Ellenson, PF (Marquette)
AH: Starting center Rudy Gobert missed 21 games with injuries last season, so the Jazz wouldn't mind picking up some frontcourt depth in case that happens again. Ellenson is a highly skilled big man who can rebound, score in the low post and stretch defenses with his shooting. There are concerns about his defense, but on a deep team like Utah he'll have the luxury of slowly improving on that side as the court as he gradually earns minutes.
13. Phoenix Suns: Malachi Richardson, SG/SF (Syracuse)
CC: A trade in this spot is possible, considering the Suns have three first round selections. Assuming the team holds onto No. 13, Richardson is the type of high-risk, high-reward pick the Suns should make. Richardson thrived during Syracuse's unexpected NCAA Tournament run, but he was inconsistent in the regular season, mostly due to poor decision making. Offensively, He pounds the rock way too much and ends up taking too many contested shots in the lane. He did shoot 35.3% from behind the arc and if a team can get him to play within a system, he has the potential to be an All-Star down the road.
14. Chicago Bulls: Deyonta Davis, PF/C (Michigan State)
AH: The Bulls may enter the 2016/17 season without Pau Gasol or Joakim Noah, so they need to concentrate on size in the draft. It may come down to a decision between Davis and Domantas Sabonis, but the 6'11" Michigan State product gets the nod here based on athleticism. It may take him a little while to adjust to the physicality of the pro game, but Davis has shown that he can rebound, block shots and shoot a little. The outlook for this pick could change if Chicago finds a taker for Derrick Rose, which would put Vanderbilt's Wade Baldwin in play at No. 14.
15. Denver Nuggets: Furkan Korkmaz, SG (Turkey)
CC: The Nuggets emphasize scouting international players as much as any team in the league and they're not afraid to draft a player who may take time to develop, or one who has played against questionable talent. Korkmaz may take some time to reach his potential, but he has the tools to get there. He's a scorer who won't be considered a chucker by any means. He plays smart basketball, dribbling with a purpose in order to either get to the rim or manipulate the defense into leaving a teammate open. His ability on the defensive end will be crucial to his staying power in the league. If he can bulk up and hold his own on the wing, he could be a steal at No. 15.
16. Boston Celtics: Domantas Sabonis, PF/C (Gonzaga)
AH: After taking Dragan Bender at No. 3, the Celtics add to their frontcourt depth with the talented Gonzaga big man. Sabonis averaged a double-double with the Zags this season at 17.5 points and 11.8 rebounds per game, and would give Boston a physical presence inside. If Jared Sullinger and/or Tyler Zeller leaves in free agency, Sabonis could step right in and take their place.
17. Memphis Grizzlies: Wade Baldwin, PG (Vanderbilt)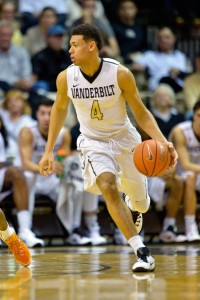 CC: The Grizzlies' offseason will revolve around re-signing Mike Conley and while it's likely he'll be back, there's a chance he'll bolt in free agency. If Baldwin is there at No. 17, the franchise could have a potential long-term replacement for Conley should he leave. If Conley stays, Baldwin can slot into the backup point guard spot and his 6'10" wingspan will allow him to play some shooting guard as well. The Grizzlies could really use a small forward, but I suspect they jump at the chance to take Baldwin if he's there.
18. Detroit Pistons: Denzel Valentine, SG (Michigan State)
AH: The Pistons don't have to look far to find a versatile swingman with a variety of offensive skills. The 6'6″ Valentine can shoot, pass and handle the ball, and he understands the game in a way that will make coach Stan Van Gundy very happy. Detroit may consider going with a bigger player in this spot, but Valentine's overall skill level will make him too irresistible to pass up.
19. Denver Nuggets: Ante Zizic, C (Croatia)
CC: The Nuggets go with an international prospect for the second time in this draft, nabbing a seven-footer with fantastic upside. Zizic is a 19-year-old physical big man who plays with tremendous energy and is an excellent rebounder.  He'll need time to develop and Denver is in a good position to afford him that luxury.
20. Indiana Pacers: Cheick Diallo, PF/C (Kansas)
AH: If the Pacers are ready to give up on the experiment of Paul George as a power forward, Diallo would be a nice addition to the roster. He's only 6'9″, but he brings rebounding, shot blocking and overall good defensive skills to a team that needs more size. Diallo may never be a productive NBA scorer, but he's a potentially very good role player who brings a lot of value at this pick.
21. Atlanta Hawks: DeAndre' Bembry, SF (St. Joseph's)
CC: Bembry is an excellent passer with tremendous court vision. He's a solid ball handler who should be able to come in and play a role on the Hawks' second unit. His jump shot limits his ceiling — think Evan Turner with better defensive skills at this stage in his career. The Hawks could certainly use another playmaker, especially if they trade away Jeff Teague this summer.
22. Charlotte Hornets: Malik Beasley, SG (Florida State)
AH: The Hornets may need to find a shooting guard with veteran Courtney Lee entering free agency, and Beasley is the best option still on the board. The 6'5″ freshman averaged 15.6 points per game with the Seminoles and showed an ability to stretch defenses, connecting on 39% of his shots from three-point range.
23. Boston Celtics: Thon Maker, PF/C (Australia)
CC: If the Celtics hold onto all their first-round picks, I expect them to take some risks. Maker is a high-risk, high-reward guy. He'll need to bulk up at the NBA level and he's unpolished in many areas. However, he's an athletic big man who can shoot from outside. Boston could do a lot worse in this spot.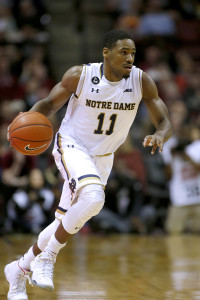 24. Philadelphia 76ers: Demetrius Jackson, PG (Notre Dame)
AH: The Sixers need to find a point guard on draft night, and if they can't get one through a deal, they'll take the best one still available at No. 24. Jackson may be a little small at 6'1″, but he understands the game and is willing to sacrifice his own offense for the sake of his teammates. His leaping ability makes up for his lack of size, and his speed and overall athleticism should give him a bright NBA future.
25. Los Angeles Clippers: Taurean Prince, SF (Baylor)
CC: The Clippers don't have any long-term options at the small forward position on the roster. Prince is an athletic wing with good defensive instincts. He should be able to develop into a nice rotation player.
26. Philadelphia 76ers: Juan Hernangomez, F (Spain)
AH: With their third pick in the first round, the Sixers grab an overseas prospect they can stash for a season or two while he tries to build himself into an NBA player. Scouts see the 20-year-old Spaniard as a proficient shot-maker who needs to build strength and develop a low-post game. He can be part of Philadelphia's future before the decade is up.
27. Toronto Raptors: Ivica Zubac, C (Croatia)
CC: The Raptors could very well trade one of their first-rounders, so there may be another team drafting in this position. Assuming Toronto stays put, Zubac would be a good use of the No. 27 pick. Although he's not super athletic, he runs the floor well and has been efficient near the rim. He's raw, but he should be able to contribute off the bench during his rookie deal.
28. Phoenix Suns – Timothe Luwawu, SG/SF (France)
AH: The 6'7″ shooting guard is highly regarded in NBA circles and could be selected much higher. This is the Suns' third pick in the first round, and they might be looking for a draft-and-stash player, but if Luwawu is still available, he's too good not to bring over right away. While he's a solid defensive player, Luwawu showed this season that he can score as well, averaging 14.6 points per game in the Adriatic League. He has overcome a May ankle injury and is starting to make his way up draft boards.
29. San Antonio Spurs: Guerschon Yabusele, PF (France)
CC: The Spurs again go with a draft-and-stash player with their first-round pick. Yabusele is a versatile 6'8″ power forward who moves extremely well. He has decent court vision and he can shoot the three-ball as well. He has the potential to be one of those international players whom NBA fans forget about for a few seasons before he comes stateside and immediately contributes to a winning team.
30. Golden State Warriors: Patrick McCaw, SG (UNLV)
AH: The Warriors pick up some insurance at the wing in case Harrison Barnes receives an offer they don't want to match. The 6'7″ Running Rebels swingman is a good passer and defender who is also dangerous from 3-point range. Whether Barnes stays or not, McCaw is a good prospect to develop for the future.
Photos courtesy of USA Today Sports Images.