JULY 7, 3:53pm: The Cavs and the Bucks have agreed to a sign-and-trade deal that sends Dellavedova to Milwaukee in exchange for cash and the rights to Albert Miralles, Chris Haynes of The Northeast Ohio Media Group reports. Cleveland will also create a trade exception worth $4.8MM as a result of the swap, Haynes adds. The Cavs have announced the deal is official via press release.
JULY 4, 1:13pm: The Cavaliers won't match the Bucks' offer sheet for Dellavedova, league sources tell Chris Haynes of Cleveland.com.
JULY 1, 3:40pm: LeBron James has tweeted congratulations to Dellavedova, wishing him good luck in Milwaukee, which makes it sounds as if the Cavs won't match Milwaukee's offer sheet.
3:04pm: An agreement between the Bucks and Dellavedova is now in place, tweets Jeff Goodman of ESPN.com. Meanwhile, Brian Windhorst of ESPN (Twitter link) says Milwaukee and Cleveland have had some sign-and-trade discussions, but there's no traction there at this point. The Bucks aren't expecting the Cavs to match an offer sheet.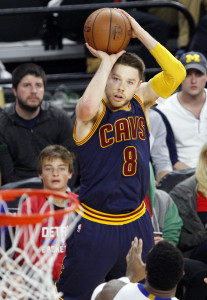 2:59pm: The Bucks are nearing an agreement with Matthew Dellavedova on a four-year, $38MM deal, reports ESPN's Zach Lowe (via Twitter). David Aldridge of NBA.com confirms (via Twitter) that the two sides are close to a deal, pegging the exact value at $38.4MM.
Dellavedova is currently a restricted free agent, having received a qualifying offer from the Cavaliers. Assuming the Cavs don't take that qualifying offer off the table, Milwaukee would have to sign the guard to an offer sheet, and hope Cleveland doesn't match. If the Cavs were to rescind the QO, the Bucks could sign Dellavedova outright as an unrestricted free agent.
The Kings, Hawks, and Mavericks were among the other teams that reached out to Dellavedova's camp to express interest after free agency got underway last night. According to Jason Jones of The Sacramento Bee (Twitter link), Sacramento viewed Dellavedova as a sign-and-trade possibility, so perhaps the Bucks and Cavs will discuss that option as well. If it's an offer sheet, Cleveland will have three days to match once it's formally signed.
Dellavedova, 25, was a part-time player for the Cavs during the last three seasons, averaging 7.5 PPG and 4.4 APG while shooting 41.0% from three-point range in 2015/16. He also played some key minutes in the postseason for Cleveland the last two years, though his minutes were reduced in this year's playoffs.
Photo courtesy of USA Today Sports Images.