JULY 26, 12:27pm: The Heat have officially signed Waiters, the team confirmed today in a press release.
"Dion is not a Room Exception player," team president Pat Riley said in a statement. "He wanted to play for the Miami HEAT and chose to forgo other more lucrative financial opportunities to be a part of our championship organization. We are very honored that he made the commitment to come to South Florida and sign with us. Dion is young, athletic and explosive, which fits in with our roster. He will add a great dimension for us at the off-guard spot. I really like the depth and versatility that we now have in our perimeter positions. Welcome aboard Dion!"
JULY 25, 3:48pm: Waiters received a two-year deal worth nearly $6MM, sources told The Vertical's Adrian Wojnarowski. The club did use its room exception and Waiters has a player option on the second year, Wojnarowski adds.
2:13pm: The Heat have reached an agreement on a new contract with free agent shooting guard Dion Waiters, according to Jon Krawczynski and Tim Reynolds of The Associated Press. The AP duo reports that Waiters will sign a one-year deal with Miami worth the club's $2.898MM room exception.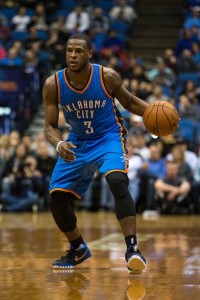 Given the kind of money we've seen thrown around so far this month, a one-year, $2.898MM deal for Waiters looks incredibly team-friendly. At the start of free agency, the Thunder issued a qualifying offer worth $6,777,589 to Waiters, making him a restricted free agent. Although Oklahoma City later rescinded that offer, allowing the 24-year-old to hit the open market, Waiters could have signed that one-year QO at any time while it was still on the table. Instead, he'll earn less than half that amount with Miami.
Heat president Pat Riley indicated at a recent press conference that his team didn't intend to use its room exception this summer, preferring to save it for a potential mid-season acquisition. Of course, Riley likely didn't anticipate a player of Waiters' caliber being willing to sign for such a modest one-year deal.
A former fourth overall pick, Waiters hasn't developed into a star, but he has been a steady scorer off the bench over the course of his four NBA seasons. For his career, he has averaged 12.8 PPG, with a shooting line of .411/.334/.707. Last season, he appeared in 78 games (15 starts) for Oklahoma City, averaging a career-low 9.8 points for the Northwest division champs.
Although the Heat suffered a major blow when Dwyane Wade decided to sign with the Bulls rather than returning to Miami, the team has been active as it attempts to replace Wade's production and fill the holes on its roster. As our Free Agent Tracker shows, the Heat have signed or re-signed veteran free agents Wayne Ellington, Tyler Johnson, James Johnson, Willie Reed, Derrick Williams, and Hassan Whiteside, in addition to Waiters.
Photo courtesy of USA Today Sports Images.