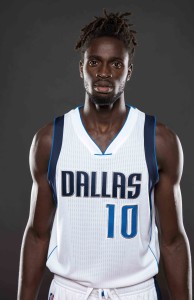 JULY 14, 8:54am: The Knicks have officially signed Ndour, the team announced today (via Twitter).
JULY 13, 12:27pm: Only the first year of Ndour's deal with the Knicks will be fully guaranteed, a source tells Marc Berman of The New York Post.
11:12am: The Knicks have agreed to bring another player stateside from a European team, according to international basketball journalist David Pick, who reports (via Twitter) that the team has reached a two-year deal with Real Madrid forward Maurice Ndour. The pact, which figures to be for the minimum salary, will be guaranteed, per Pick.
Ndour went undrafted out of Ohio University in 2015, but he made a strong impression as a Knicks summer-leaguer last year, averaging 9.6 points and 4.8 rebounds in 23.4 minutes per contest across five appearances. The Knicks tried to get Ndour to back out of the commitment he made to the Mavs, who formally signed him about a week after his final summer league game, but were unable to convince him.
Ndour ultimately ended up being waived by Dallas and found his way to Real Madrid for the 2015/16 season. A year later, the Knicks finally have their man, adding him to a group of free agent signees that includes Lithuanian forward Mindaugas Kuzminskas. The club also locked up draft-and-stash prospect Willy Hernangomez, a Spanish center.
Since Kuzminskas got the Knicks' room exception, and the team doesn't have any cap room left, the minimum-salary exception is the only way New York can continue to add free agents. Ndour would earn $1,448,720 on a two-year, minimum-salary contract.