FRIDAY, 1:07pm: The Knicks have officially signed Jennings, the team announced today (via Twitter).
MONDAY, 3:28pm: It'll be a one-year, $5MM deal for Jennings and the Knicks, according to Goodwill (Twitter link). That could be a nice value pickup for New York if the former 10th overall pick can stay on the court in 2016/17.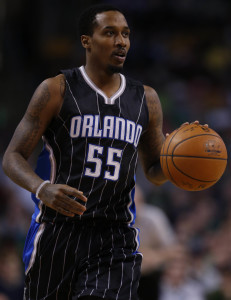 3:19pm: Veteran guard Brandon Jennings has become the latest notable free agent to strike a deal with the Knicks, according to Vincent Goodwill of CSN Chicago, who reports (via Twitter) that the two sides have agreed to terms. ESPN's Marc Stein first reported (via Twitter) that the Knicks were on the verge of reaching an agreement with Jennings.
It has been a busy offseason so far for the Knicks, who kicked things off in June by acquiring Derrick Rose in a five-year player trade with the Bulls. The team has since reached agreements with Joakim Noah and Courtney Lee on four-year deals that will pay them $72MM and $48MM, respectively.
Based on those deals, the Knicks weren't expected to have a whole lot of money left to go shopping for a backup point guard, so landing Jennings could be a coup for the team, assuming there are no other moving pieces in play. We'll have to wait for the full terms of the deal to surface before we can evaluate it, but if he's healthy, Jennings is capable of backing up Rose and scoring points off the bench.
Jennings, 26, has been plagued by injuries over the last two years, having missed about half the season in both 2014/15 and 2015/16. He also saw his minutes and his production take a huge hit last season in both Detroit and Orlando. He averaged just 6.9 PPG for the season, after never having scored less than 15.4 PPG in any of his six previous seasons.
As is the case with Rose and Noah, the Knicks are presumably counting on Jennings to return to health and to look a little more like his old self going forward.
The Knicks figure to have renounce the rights to one or two of the free agents they'd wanted to re-sign in order to make room for Jennings. Derrick Williams, Langston Galloway, and Lance Thomas are candidates to be let go, with Williams likely heading that list.
Photo courtesy of USA Today Sports Images.