JULY 8: The Lakers have formally announced their deal with Mozgov, via a press release.
JULY 1: The Lakers have reached an agreement with free agent center Timofey Mozgov on a four-year contract worth $64MM, reports Adrian Wojnarowski of The Vertical (Twitter link). We heard earlier tonight that the two sides were in serious discussions and were nearing a deal.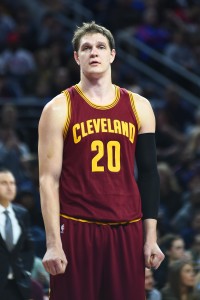 It's an eye-popping payday for Mozgov, who will turn 30 later this month. He was a part-time starter and rotational piece for the Cavaliers' championship team this past season, averaging 6.3 PPG, 4.4 RPG, and 0.8 BPG in 17.4 minutes per contest. However, he was essentially a non-factor in the playoffs, averaging less than six minutes per game in the 13 postseason contests in which he played.
A year ago, Mozgov was a full-time starter in the postseason for the Cavs, averaging 14.4 PPG, 9.9 RPG, and 2.4 BPG during the team's 2015 playoff run. That's the sort of production the Lakers will likely be hoping for from the seven-footer going forward.
Before agreeing to sign Mozgov, the Lakers had been linked to a number of other free agent centers, including Al Horford and Hassan Whiteside, among others. However, it's not clear how much interest there was from the players' sides in those cases. For what it's worth, Ramona Shelburne of ESPN.com tweets that Pau Gasol wouldn't have been entirely opposed to a Lakers reunion.
By reaching a non-max deal with a center, the Lakers will also now have a little extra cap flexibility to address other positions.
Photo courtesy of USA Today Sports Images.