JULY 12: The Pistons have officially signed Marjanovic, the team announced today in a press release. We heard on Sunday that San Antonio wouldn't be matching Detroit's offer sheet for the big center.
JULY 7: The Pistons are set to sign Spurs restricted free agent Boban Marjanovic to an offer sheet worth $21MM over three years, league sources tell ESPN's Marc Stein (Twitter link). Once Marjanovic officially puts pen to paper and the Spurs receive the offer sheet, San Antonio will have three days to match it.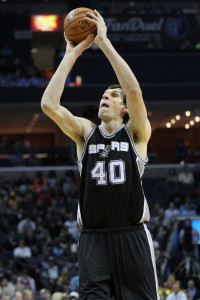 Marjanovic, who turns 28 in August, joined the Spurs a year ago, and saw a little action during his first year as an NBA player. Appearing in 54 game, the 7'3″ center averaged 9.4 minutes per contest, making the most of that playing time by averaging 5.5 PPG and 3.6 RPG to go along with a .603 FG%. The sample size was small, but Marjanovic's production worked out to 21.0 PPG and 13.7 RPG per 36 minutes.
The Pistons' reported contract agreements will use up all their salary cap space, but because the team's deal with Andre Drummond is not yet official, the team still has some room to fit in Marjanovic's offer sheet. Drummond will earn a maximum salary of $22MM+ in 2016/17, but for now, he's still on Detroit's books for cap hold worth just over $8MM.
As for the Spurs, they had to move Boris Diaw just to clear cap room for Pau Gasol's new contract, so it seems unlikely that they'll match the Pistons' offer sheet for Marjanovic. ESPN's Marc Stein tweets that San Antonio is resigned to losing the Serbian center. The Spurs appear to have found a replacement already, reportedly agreeing to terms with free agent center Dewayne Dedmon.
Photo courtesy of USA Today Sports Images.