JULY 14, 10:13am: The Raptors have officially confirmed their deal with Sullinger (Twitter link).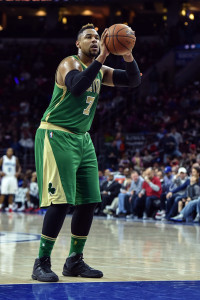 JULY 11, 1:52pm: It appears Jared Sullinger will remain in the Atlantic Division, with the big man tweeting out that he intends to join the Raptors. It will be a one-year deal, Adrian Wojnarowski of the Vertical reports (via Twitter). The arrangement is worth approximately $6MM, Marc Stein of ESPN.com tweets.
The Celtics renounced their $4,433,683 qualifying offer to Sullinger on Sunday, making him an unrestricted free agent. Boston had limited playing time to offer the 6'9″ power forward after signing Al Horford in free agency and allowing Amir Johnson's $12MM deal to become guaranteed for next season. Sullinger met with Raptors GM Masai Ujiri on Sunday, Wojnarowski notes, which apparently went well, given the two sides struck a deal today.
Sullinger, 24, spent four years in Boston after the Celtics made him the No. 21 overall pick on the 2012 NBA Draft. He appeared in 81 games this past season, including 73 tip-offs as a starter, averaging 10.3 points, 8.3 rebounds and 2.3 assists in 23.6 minutes per outing. The forward had a shooting line of .435/.282/.640.