FRIDAY, 11:11am: The Timberwolves have officially signed Rush, the team announced today (Twitter link).
WEDNESDAY, 1:34pm: As free agents around the league express interest in heading to Golden State, at least one veteran Warriors free agent is headed elsewhere. According to Alex Kennedy of Basketball Insiders (Twitter link), Brandon Rush has agreed to sign with the Timberwolves. Michael Scott of The Associated Press tweets that it'll be a one-year, $3.5MM deal for Rush.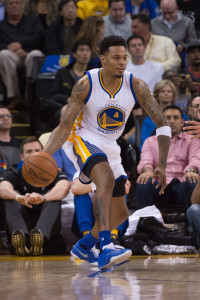 Rush, who turns 31 tomorrow, appeared in 75 regular-season games for the Warriors last season, the first time he had eclipsed the 70-game mark since the 2009/10 campaign. Although he stayed healthy for most of the year, Rush was only a part-time contributor for Golden State's 73-win team — he started 25 games, but averaged less than 15 MPG overall for the season.
[RELATED: Minnesota Timberwolves' depth chart at RosterResource.com]
While Rush has never been a big-time scorer, having never posted a double-digit scoring average for a season, he's a talented shooter. In 2015/16, he knocked down 41.4% of his three-pointers, increasing his career rate to 40.3%.
Minnesota had added a point guard (Kris Dunn) in the draft and a big man (Cole Aldrich) in free agency, but had yet to address its need for a shooter, and Rush certainly fits that bill. Before agreeing to terms with Rush, the Wolves had been linked to players like Jamal Crawford, Kent Bazemore, Courtney Lee, and Randy Foye. All of those free agents except for Foye have reached agreements with other teams.
Rush had been considered a candidate to return to the Warriors on a minimum-salary deal, but such a contract would have only paid him about $1.4MM, and he may not have had an increased role. In Minnesota, the former Kansas standout should get every opportunity to contribute, given the club's lack of shooting depth, and will do so on a higher salary.
Photo courtesy of USA Today Sports Images.