Kevin Durant's decision to join the Warriors presents All-Star point guard Russell Westbrook with a difficult dilemma. The way the Collective Bargaining Agreement is structured makes Westbrook's decision even more complex.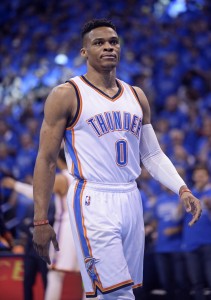 In most cases, productive veteran players have little incentive to restructure their current contracts and sign an extension. Not so in Westbrook's case. The Thunder exercised caution this summer once Durant chose to join forces with the two-time Western Conference champions. Outside of adding Euro Alex Abrines via free agency, they essentially stood pat.
When free agent guard Dion Waiters signed with the Heat, his cap hold disappeared and Oklahoma City had more than enough salary-cap room to offer Westbrook a maximum extension.
Westbrook could elevate his salary for the upcoming season from approximately $17.8MM to $26.5MM. Since these types of extensions are capped at four seasons and include the remaining years on the current deal, Westbrook could sign only through the 2019/20 season. As Tommy Beer of Basketball Insiders details, Westbrook would essentially be agreeing to a four-year contract worth nearly $118MM.
The bump in salary for the upcoming season would allow Westbrook to make more money over the next four seasons than he could through unrestricted free agency. With a projected cap of $102MM, Westbrook would make $110.7MM if he re-signed with Oklahoma City as a free agent or $108.2MM if he signed elsewhere.
The flip side is that Westbrook could get two additional years by re-signing with the Thunder via free agency and add another $74MM to his coffers, or one more year and approximately $33MM if he chose to leave Oklahoma City.
Another intriguing scenario, as The Vertical's Bobby Marks recently pointed out, is that Westbrook could sign a shorter extension with a player opt-out. In that case, Westbrook could become an unrestricted free agent in the summer of 2018. By virtue of being a 10-year player at that point, his starting salary would be $35MM and the team owning his Bird Rights could pay him upwards of $200MM over five seasons.
Westbrook could sign an extension any time before the end of February, though he'd be leaving money on the table if he waited until after the season started.
So which way is Westbrook leaning? Thunder management probably doesn't know the answer at this juncture. He reportedly was surprised and upset that Durant didn't re-sign to continue chasing a championship with him in Oklahoma City. Westbrook has also kept an extremely low profile this offseason, shunning the media and social platforms.
He's fully aware that the Thunder, as presently constituted, are no longer a serious contender and could struggle to make the playoffs. Oklahoma City made a big trade on draft night, acquiring shooting guard Victor Oladipo in a package that sent power forward Serge Ibaka to Orlando. The Thunder brass felt that Oladipo's scoring ability could take some pressure off Westbrook and Durant, particularly in the postseason.
Now, Oladipo becomes the Thunder's No. 2 option behind Westbrook. Center Steven Adams, a solid defender, is probably the third-best player on the team ahead of scoring big Enes Kanter, who had a minus 3-1 Defensive Box Rating last season. The rest of the roster is filled with role players or unproven commodities.
Certainly, there are plenty of teams that would love to add Westbrook, if the price is right and if he's willing make some type of long-term commitment. The team that acquires him could also offer an extension, but getting something done would likely hinge on opening up enough extra cap space ($8.8MM) to offer him a max contract.
While the Thunder don't want to lose a superstar without compensation two summers in a row, they would prefer to keep Westbrook. They would have to convince Westbrook that they'd bring in other quality pieces next summer to regain the status of serious title contender. Blake Griffin, an unrestricted free agent next season, reportedly tops their wish list.
If Westbrook balks at an extension, the Thunder would have to shelve their current plan. They would obviously be in a rebuild mode at that point and could accelerate the process by getting the best package available for Westbrook.
The Celtics have long been rumored to be the logical trade partner for Oklahoma City, given their stash of draft picks and renewed status as a playoff team. The Lakers, trying to find some relevance in the post-Kobe Bryant era, could offer young talent, if not the promise of being a contender. Other teams, such as the Timberwolves, could jump into the fray and make a bold move.
Westbrook's personality may rub some people the wrong way and some may question his leadership but there's little doubt he's worth the money. The 27-year-old is in the prime of his career and a triple-double machine. Two seasons ago when Durant was often sidelined by a foot injury, Westbrook led the NBA in scoring at 28.1 points per game while also averaging 7.3 rebounds and 8.6 assists. With a healthy Durant last season, Westbrook's scoring average dropped to 23.5 but he averaged career highs in rebounds (7.8) and assists (10.4). His Offensive Box Rating was a league-high 8.0 and he's also an intense defender. He had a career-best 3.7 Defensive Box Rating last season.
If Westbrook remains with the Thunder this season, it's conceivable he could average a triple-double, or something close to it. He'll have to carry a heavy burden, something he wasn't expecting as Durant entered free agency. He'll have decide whether it's worth sticking it out with the weakened Thunder by signing an extension, or chase a ring with another franchise as Durant chose to do.
Photo courtesy of Mark D. Smith (USA Today Sports Images).