The Thunder locked up their top extension candidate of the offseason earlier this month, when they inked Russell Westbrook to a new three-year deal that will keep him under team control though at least the 2017/18 season. Still, even after extending Westbrook, the Thunder have more candidates for new deals than virtually any other team in the NBA.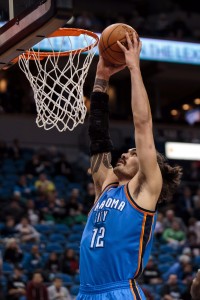 Arthur Hill of Hoops Rumors recently examined the case for a new contract for Victor Oladipo, who arrived in Oklahoma City as a part of the Serge Ibaka trade and is entering the final year of his rookie deal. Like Oladipo, Andre Roberson is also extension-eligible for the first time this offseason, as his rookie contract nears its end. With Kevin Durant no longer a member of the Thunder, the team figures to rely on Oladipo and Roberson to take on larger roles in the short term than they otherwise would have, and may be counting on them to be long-term pieces as well.
[RELATED: Players eligible for rookie-scale extensions]
With Westbrook locked up though, the title of the Thunder's most important extension candidate now belongs to Steven Adams. A former lottery pick, Adams single-handedly salvaged the James Harden trade for Oklahoma City, and has evolved into one of the NBA's more steady and reliable centers.
In 2015/16, Adams averaged a modest 8.0 PPG to go along with 6.7 RPG, 1.1 BPG, and a .613 FG%. Those numbers aren't eye-popping, and his career .551 FT% is a cause for some concern. However, Adams' showing in the postseason provided a better picture of his importance to the Thunder. In 18 playoff games, the New Zealand native saw his minutes per game increase from 25.2 to 30.7, and he nearly averaged a double-double in those contests, with 10.1 PPG and 9.5 RPG.
Durant's departure means that there will be a few more shots to go around on offense, and the loss of Ibaka will put more pressure on the Thunder's remaining interior defenders, so the franchise may be expecting a major step forward from Adams on both ends of the floor. The former University of Pittsburgh standout just turned 23 last month, so his best years should still be ahead of him, and he's in a great position to have a breakout season in 2016/17. Which raises the question: Should the Thunder lock him up now to avoid having him reach restricted free agency next summer?
To answer that question, it's worth considering what an extension for Adams would cost. A huge 2016/17 season would certainly make him a lock for a maximum-salary deal next July, but given the jump the salary cap took this year, and the free agent prices we saw last month, Adams may not even need to take a significant step forward this season to be worth the max — that may already be his price, given how valuable young rim protectors are. With so many teams opening up significant chunks of cap room every summer, Adams likely wouldn't have any trouble finding a max offer next year.
If the Thunder assume it will take a max deal to lock up Adams, there are plenty of arguments for waiting until next summer to complete an extension. First and foremost, the former 12th overall pick would have a cap hold worth just below $8MM as a restricted free agent. As we saw with the Pistons and Andre Drummond – as well as the Wizards and Bradley Beal – keeping an RFA's cap hold on the books for a little while, having already agreed to a max deal with that player, allows a team to maintain significant cap flexibility and pursue other free agents.
The NBA's most recent salary cap projection for 2017/18, which is probably a little on the cautious side, would result in a max salary for Adams starting at around $24MM. In other words, Oklahoma City would give up $16MM+ in potential salary cap space at the start of free agency by extending Adams this offseason rather than waiting until next summer to make things official.
[RELATED: NBA's 2017/18 salary cap projection dips to $102MM]
For a team that has aspirations of pursuing a major free agent such as Oklahoma native Blake Griffin, that extra cap room could be a huge factor. Depending on how optimistic the Thunder are about landing a big-time free agent, the team could hold off on new deals for Adams, Oladipo, and Roberson in order to maximize 2017's cap flexibility. Waiting on extensions would also alleviate some risk for the team — OKC wouldn't want to see a newly-extended player suffer a major injury or take a huge step backward in 2016/17, before that new deal even goes into effect.
Of course, as much as it might make sense from a roster-building perspective for the Thunder to wait until July to lock up Adams, the team must also be cognizant of how things transpired this summer with Durant. Adams would be a restricted free agent in 2017, so the Thunder wouldn't risk losing him to a rival suitor as long as they're willing to offer the max. But Durant's departure means the franchise may want to redouble its efforts to make its own core players feel secure.
Westbrook's extension, which gave him a pay increase of about $9MM for the coming season, was a solid start. Getting something done with Adams before they have to do anything might be the next step for the Thunder. It would be a show of good faith for a player who is extremely important to the franchise, and perhaps it would pay dividends down the road — Adams or another star player might factor the club's willingness to take care of its own into a future free agent decision. And if Adams is willing to compromise by taking a slight hometown discount this fall, that's all the more reason for OKC to work something out sooner rather than later.
Barring a significant change of direction for the franchise, there's little doubt that Adams will remain with the Thunder beyond this season, and he'll likely stick with the team for a few more years. But when and how the two sides finalize his next contract will be fascinating to watch. Signing Adams to a big-money extension this offseason would severely limit the Thunder's ability to be major players in next summer's free agency, barring an Enes Kanter trade. But for a team that just lost the longtime face of its franchise, locking up core players sooner rather than later could be a stronger priority than usual this fall.
Photo courtesy of USA Today Sports Images.