2:20pm: The Thunder have officially issued a press release announcing their extension with Westbrook.
"I am grateful to extend my contract with the Thunder and continue to play with the only organization that I have played for and have loved being a part of since I was drafted into the NBA," Westbrook said in a statement. "I'm really excited about moving forward with this group of guys and continuing to play in front of the best fans in the world."
7:36am: The Thunder have agreed in principle to a renegotiation and extension with Russell Westbrook, according to Ramona Shelburne of ESPN.com, who reports that the deal will be signed on Thursday. Adrian Wojnarowski of The Vertical confirms (via Twitter) that Westbrook is flying to Oklahoma City this morning and plans to sign a three-year, $85MM+ deal.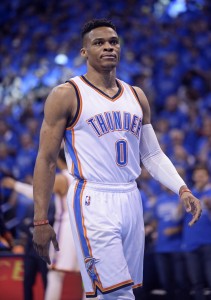 Wojnarowski had reported on Wednesday night that the two sides were in advanced discussions on a new agreement. Per Wojnarowski, the three-year contract will include this season and will feature a player option, so it will essentially keep Westbrook under team control through the 2017/18 campaign. In 2018, he'll have the opportunity to decline that third-year player option and reach free agency as he becomes eligible for the 10-year-veteran maximum salary.
While veteran extensions generally don't allow players to maximize their earnings, that's often not the case when a renegotiation is included. Westbrook had been set to earn a $17,769,374 salary for the 2016/17 season. By renegotiating his deal, the Thunder will use their excess cap room to bump him up to the maximum salary, which is $26,540,100. If Westbrook had waited until he reached free agency in 2017 to sign a new deal, his 2017/18 starting salary would have been a little higher, but he would've missed out on this year's pay increase of nearly $9MM, as Dana Gauruder of Hoops Rumors pointed out this week when he broke down Westbrook's options.
Westbrook's new contract should work out to be identical to Mike Conley's over the next two years, with a salary of $26,540,100 (2016/17), followed by a 7.5% raise to $28,530,608 (2017/18). In a free-agent contract like Conley's, that $1,990,508 first-year raise would apply to all subsequent seasons as well, but in Westbrook's case, he'll get a 7.5% raise on his 2017/18 salary, since that's the first year of his new extension. That would result in a 2018/19 salary of $30,670,403 and a three-year total of $85,741,111, as Eric Pincus of Basketball Insiders recently explained.
By inking an extension now, Westbrook will give the Thunder a couple years to retool the roster around him in the wake of Kevin Durant's departure. As Royce Young of ESPN.com notes (via Twitter), the team may now be less inclined to work out new deals this offseason for extension-eligible players like Steven Adams, Victor Oladipo, and Andre Roberson, since keeping their cap holds on the books next summer would allow the franchise to maximize its 2017 cap room. That approach would be risky in cases where Oklahoma City doesn't intend to go up to the max though, since those players could sign offer sheets with rival teams if they become restricted free agents.
While it's still possible that Westbrook departs Oklahoma City in free agency down the road, he'll be staying with the team longer than many observers expected. When Durant chose to sign with the Warriors, trade speculation immediately began swirling around the star point guard — according to Shelburne (via Twitter), the Thunder received "dozens" of trade calls over the last month, but told potential Westbrook suitors to "chill" while they tried to work out an extension with the 27-year-old.
After Durant's departure, multiple reports out of OKC indicated that Westbrook may be more motivated than ever to stay with the Thunder, rather than wanting to follow his All-Star teammates out of town. Westbrook's long-term future with the club may ultimately hinge on how GM Sam Presti and company fortify the roster over the next year or two, but for now, it seems those local reports on Westbrook's motivation were accurate.
A five-time All-Star, Westbrook saw his scoring average dip to 23.5 PPG in 2015/16 after he led the league with 28.1 PPG in 2014/15. However, he set new career-highs in APG (10.4) and RPG (7.8) last season, and he's poised for a huge statistical season this coming year, with Durant no longer in the picture.
Photo courtesy of USA Today Sports Images.