3:40pm: The Bucks have announced the deal in a press release, confirming that they've sent Ennis to the Rockets in exchange for Beasley.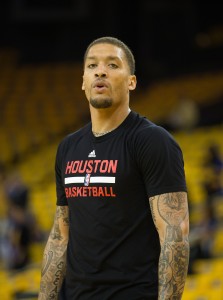 "We're excited to add a player with Michael's skill set to our team," said general manager John Hammond in a statement. "He's someone that we've kept our eye on the last few seasons and we're looking forward to watching him compete throughout training camp and the season."
3:21pm: With Khris Middleton expected to be sidelined for the next six months due to a torn hamstring, the Bucks have found a stop-gap depth piece at forward. According to Adrian Wojnarowski of The Vertical (via Twitter), Milwaukee has shipped Tyler Ennis to the Rockets in exchange for Michael Beasley.
[RELATED: Khris Middleton to miss six months with torn hamstring]
According to Charles F. Gardner of The Milwaukee Journal Sentinel (Twitter links), the swap isn't a "reactionary" move for the Bucks, who were said to be discussing a deal with the Rockets before Middleton went down with his hamstring injury on Tuesday. Nonetheless, it's not hard to think Milwaukee was further motivated to get something done after Middleton went down. A report last night indicated that the team was exploring the trade market for help on the wing.
Still, the Bucks are dealing from a position of strength in the trade. Newly-extended Giannis Antetokounmpo is expected to see plenty of time at the point, along with Michael Carter-Williams and free agent addition Matthew Dellavedova. Barring injuries, that wouldn't leave much playing time for Ennis.
The 18th overall pick in the 2014 draft, Ennis was sent from Phoenix to Milwaukee at the 2015 trade deadline, and has played in 71 games for the Bucks since then, averaging just 4.1 PPG and 2.1 APG in 13.5 minutes per contest. The 22-year-old will provide point guard depth for a Rockets team that currently features Patrick Beverley and Pablo Prigioni at the position.
From the Rockets' perspective, the move could indicate that they have confidence in bringing back Donatas Motiejunas, and are willing to give up some of their depth at forward, tweets Jonathan Feigen of The Houston Chronicle. Motiejunas is the last restricted free agent on the market, and his agent suggested last week that he's still waiting for a "serious" contract offer from Houston.
As for the Bucks, they certainly won't expect Beasley to replicate Middleton's production, but the former second overall pick is coming off a decent stint in Houston. The sample size wasn't significant – Beasley played just 20 regular-season games for the Rockets – but the 27-year-old's numbers (12.8 PPG, 4.9 RPG, .522 FG%) were promising. Prior to signing with the Rockets, Beasley had a huge year in China, recording 31.9 PPG, 13.4 RPG, 3.8 APG, and 2.0 APG for the Shandong Golden Stars, earning the CBA's foreign MVP award.
From a financial perspective, the trade certainly isn't a blockbuster for either team — Ennis is owed a salary of $1,733,880, while Beasley will make $1,403,611, so the Rockets will take on a little extra money. The Bucks should also be able to create a trade exception worth Ennis' salary, since they'll be able to acquire Beasley using the minimum salary exception.
Beasley's contract will expire at season's end, making him an unrestricted free agent in 2017. The Rockets will be able to control Ennis through the 2017/18 season, assuming they decide to exercise their team option on him. The decision on that option, which would be worth $2,666,707 and would make Ennis a potential 2018 RFA, is due by October 31.
Photo courtesy of USA Today Sports Images.