1:20pm: The Bucks have officially confirmed that they have an extension agreement in place with Antetokounmpo, announcing the deal in a press release. According to Brian Windhorst of ESPN.com (via Twitter), there will be no player or team options on the contract. Windhorst adds (via Twitter) that Antetokounmpo was willing to take less than the max to help the Bucks retain talent going forward.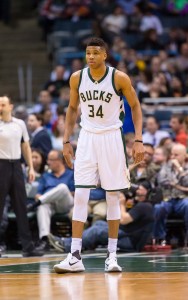 12:57pm: The Bucks and Giannis Antetokounmpo have agreed to a four-year extension worth $100MM, reports Adrian Wojnarowski of The Vertical. The deal will go into effect next year, keeping the 21-year-old under contract through the 2020/21 season.
Antetokounmpo had been on track to become a restricted free agent in the summer of 2017, at which point he likely would have commanded enough interest around the NBA to ensure that he landed a maximum-salary deal. By locking him up now, the Bucks appear to have avoided paying the max. Maximum salaries and cap figures for 2017/18 won't be set until next July, but the NBA's latest projection would mean a starting max salary of about $24MM for '17/18, with subsequent raises of $1.8MM annually — Antetokounmpo will make a little less than that.
The 15th overall pick in the 2013 draft, Antetokounmpo was viewed as a raw talent with huge upside when the Bucks selected him, and has since adjusted to the NBA more rapidly than expected. He has increased his averages in nearly every meaningful category from year to year, enjoying the best season of his young career in 2015/16, when he averaged 16.9 PPG, 7.7 RPG, 4.3 APG, 1.4 BPG, and 1.2 SPG while shooting an impressive 50.6% from the field.
While Antetokounmpo's traditional position is at forward, he's also capable of handling the ball, and his versatility and his youth suggest that his best basketball should still be ahead of him. In the first installment of our free agent power rankings for 2017, he placed the Greek Freak third, behind only Stephen Curry and Kevin Durant, and ahead of Blake Griffin and Chris Paul. Of course, when we update those power rankings, Antetokounmpo's name will no longer show up on the list.
Instead, Antetokounmpo will remain in Milwaukee as another key piece of the Bucks' core, joining a handful of players who have already been locked up for the next several seasons. Khris Middleton and Mirza Teletovic are under team control through 2019, while Miles Plumlee, John Henson, Matthew Dellavedova, and Thon Maker are under control through 2020.
Antetokounmpo is the second player entering the final year of his rookie contract to reach an agreement on an extension this offseason, joining C.J. McCollum of the Trail Blazers. His Bucks teammate, Michael Carter-Williams, is also extension-eligible until October 31, though Carter-Williams isn't considered as strong a candidate for an extension as Antetokounmpo had been. When our Arthur Hill examined Antetokounmpo's case for an extension last month, he called it an easy decision for the Bucks to offer a lucrative, long-term deal.
Photo courtesy of USA Today Sports Images.