Over the next several weeks, Hoops Rumors will be breaking down the 2016 offseason for all 30 NBA teams, revisiting the summer's free agent signings, trades, draft picks, departures, and more. We'll evaluate each team's moves from the last several months and look ahead to what the 2016/17 season holds for all 30 franchises. Today, we're focusing on the New York Knicks.
Free agent signings:
Draft-and-stash signings:
Camp invitees:
Ron Baker: One year, minimum salary ($75K guaranteed)
Chasson Randle: One year, minimum salary ($100K guaranteed)
J.P. Tokoto: One year, minimum salary ($100K guaranteed)
Trades:
Draft picks:
Departing players:
Other offseason news:
Hired Jeff Hornacek as head coach to replace interim head coach Kurt Rambis. Rambis retained as associate head coach.
Signed Amar'e Stoudemire to a ceremonial contract so he could retire as a Knick.
---
Check out our salary cap snapshot for the New York Knicks right here.
---
The Knicks entered the offseason as a franchise at a crossroads, needing to choose between hitting the reset button and building around Kristaps Porzingis, or attempting to maximize Carmelo Anthony's few remaining productive seasons by adding veterans who could step in and contribute immediately.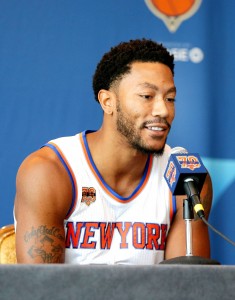 Team president Phil Jackson chose the latter, adding a number of talented players who have the potential to help New York return to the postseason, but carry with them significant injury concerns. Are the Knicks a better team on paper than a season ago? Absolutely. But just how many games the team can expect to get out of the trio of Derrick Rose, Brandon Jennings and Joakim Noah remains to be seen.
New York made its biggest strides as a team this summer by improving on its woeful backcourt of a season ago. The addition of Rose is a gamble that could pay off significantly for the team if the 27-year-old can remain healthy. This is obviously not a given, considering he has averaged just 33 games per season over the last five campaigns. Given his track record, not to mention the grind of back-to-back games that take a terrible toll on players, it isn't realistic by any means to expect Rose to play in 82 contests. But if he can be a semblance of his former self for 60 to 65 games, which I believe is a realistic target, then Jackson's gambit of acquiring him in a contract year may end up working in the short term.
With Rose as the starter, the Knicks will need depth at the point — not just in the event that disaster strikes, but to allow him to sit out the occasional game to rest. This is where things get a bit frightening for fans of the team. While I love the addition of Jennings, especially at the bargain price of $5MM for one year, he's coming off of a ruptured Achilles tendon and is no sure bet to avoid sitting behind the bench in street clothes for stretches of the campaign. The only other point guard currently on the roster is undrafted rookie Chasson Randle, who is probably better suited to log minutes in Westchester for the team's D-League affiliate this season than in Madison Square Garden. If the franchise is serious about making a playoff push this season, it should seriously consider signing Mario Chalmers or Norris Cole, the two top remaining free agents at the position. If Sasha Vujacic ends up becoming the fallback option as playmaker, 'Melo may end up regretting not pushing for a trade this summer.
For the second summer in a row, Jackson added a shooting guard via free agency. Last year's signing of Arron Afflalo failed miserably, with the team essentially pushing him out of MSG, shutting the doors, changing the locks and turning off lights once he opted out of his deal. Courtney Lee should be a much better fit for New York than Afflalo was, especially if new coach Jeff Hornacek is given free reign with the offense and not forced to stick with the triangle as his predecessors, Derek Fisher and Kurt Rambis, were. Lee's solid defense and three-point shooting will be a boon to the team, though inking the 30-year-old to a four-year, $48MM+ deal is a bit of a gamble given his career scoring average of 9.6 PPG.
Speaking of risks, the signing of Noah to a four-year, $72MM+ pact is perhaps the biggest roll of the dice this offseason for Jackson. There's no denying that Noah, when healthy, can impact the game on both ends of the court. The 31-year-old is almost assuredly going to become a fan favorite in New York, but he has only averaged 63.5 games per season during his nine-year NBA career, and big men don't generally grow more durable once they reach their 30s. This contract not only has the potential to become an albatross around the Knicks' necks; it could negatively impact the development of Porzingis, whose best position may ultimately be at center. Anything that could have an adverse effect on the second-year player and potential superstar is a bad thing for the franchise.
It's in no way a given, but if the majority of their players can remain healthy this season, the Knicks should improve upon the 32 wins they notched in 2015/16. Still, I'd be wary of expecting too drastic an improvement, as the eight seed and 40-42 wins seems like a favorable scenario for New York this year.
With Rose and Jennings each only signed for one year, it's possible the franchise will find itself rebuilding and/or retooling in 2017. If that's the case, Jackson needs to look in the mirror and ask himself if making the Knicks a borderline playoff contender this season was worth not tearing down the team and starting anew.
Of course, the Zen Master could be gone next summer, since he has the ability to opt out, leaving the cleanup to someone else. By that time, Anthony will be a another year past his prime and will hold less trade value than he did the past two seasons. It's been 43 years since the Knicks won an NBA title, and it may be a few more years before fans have another legitimate shot at cheering for a champion.
Salary information from Basketball Insiders used in the creation of this post. Photo courtesy of USA Today Sports Images.