2:48pm: Brand's one-year deal is non-guaranteed, according to Jessica Camerato of CSN Philly (via Twitter).
2:29pm: Former first overall pick Elton Brand isn't ready to call it a career quite yet. According to Adrian Wojnarowski of The Vertical, Brand will return to Philadelphia for the 2016/17 season, having signed a one-year contract with the Sixers. The team has since confirmed the signing in a press release.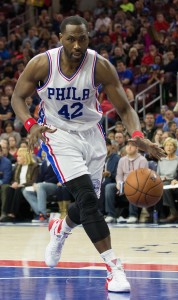 Financial terms of the deal aren't yet known. Philadelphia has no shortage of cap room, so the club could have lured Brand out of potential retirement by offering more than the minimum after he expressed back in April that he didn't expect to keep playing. Still, a minimum-salary contract appears likely.
[RELATED: Salary Cap Snapshot: Philadelphia 76ers]
Brand, 37, signed with the Sixers last January and appeared in 17 games for the team the rest of the way, averaging 4.1 PPG, 3.7 RPG, and 1.1 APG in 13.2 minutes per contest. When Brand first joined the team, he wrote a piece for The Cauldron suggesting that he believed his "experience and wisdom" could help Jahlil Okafor and other young players on Philadelphia's roster. Presumably, he's returning to fill that veteran leadership role once again.
Although the Sixers have a crowded frontcourt, Brand figures to ostensibly take Carl Landry's place on the roster. Landry was expected to the veteran presence for a group of frontcourt players that includes Okafor, Joel Embiid, Nerlens Noel, Ben Simmons, and Dario Saric. However, Landry wanted the opportunity to earn more playing time, so Philadelphia granted him his release. In Brand, the Sixers have an experienced big man who won't expect or demand significant minutes.
The 76ers, who had been carrying the maximum allowable 20 players, opened up two roster spots when they cut Landry and Tibor Pleiss, but have since filled those openings by signing Brand and Cat Barber. Not counting Barber and Brand, since the exact details of their deals haven't yet been reported, Philadelphia has 11 guaranteed salaries on its books, plus seven non-guaranteed or partially-guaranteed contracts.
Photo courtesy of USA Today Sports Images.