Over the next several weeks, Hoops Rumors will be breaking down the 2016 offseason for all 30 NBA teams, revisiting the summer's free agent signings, trades, draft picks, departures, and more. We'll evaluate each team's moves from the last several months and look ahead to what the 2016/17 season holds for all 30 franchises. Today, we're focusing on the Boston Celtics.
Free agent signings:
Camp invitees:
Trades:
Draft picks:
Departing players:
Other offseason news:
---
Check out our salary cap snapshot for the Boston Celtics right here.
---
Considering the Celtics didn't have one particular player who was the subject of constant trade speculation this offseason, it's hard to believe how many rumors swirled around the team as a whole. Boston didn't have a disgruntled player, like Rudy Gay in Sacramento, or an incompatible duo at a certain position, like Jahlil Okafor and Nerlens Noel in Philadelphia. Instead, the team had hoarded so many "assets" that it only made sense for general manager Danny Ainge to trade in a handful of those assets for one star player, the way Rockets GM Daryl Morey did several years ago when he used his stockpile of young players and picks to land James Harden.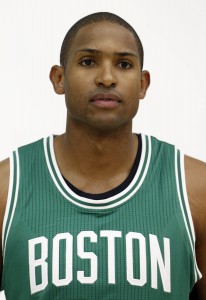 While that sort of quantity-for-quality deal would have made a lot of sense for the Celtics, Ainge didn't end up finding an offer he liked. Okafor and Noel were frequently linked to Boston, and the Celtics reportedly had conversations with the Bulls about Jimmy Butler. But Chicago had serious interest in Kris Dunn, and once the C's passed on Dunn with the third overall pick to select Jaylen Brown, trade speculation in Boston slowed down significantly.
Ainge will certainly revisit the trade market throughout the year and at the 2017 deadline, but for now, the Celtics will head into the year with Brown representing one of their major offseason additions. The former University of California standout was perhaps the most athletic player in this year's draft class, though there are questions about his outside shot, which makes him an interesting pick for Boston.
The Celtics made just 33.5% of their three-pointers as a team last season, the third-worst mark in the NBA. With sharpshooters like Buddy Hield and Jamal Murray available to the Celtics at No. 3, the decision to nab Brown instead suggests that the team thinks highly of his athleticism, tenacity, and explosiveness. Those traits are certainly valuable, but it remains to be seen whether the C's will be able to produce enough offense if they have Brown play alongside someone like Marcus Smart.
After nabbing Brown in the draft, the Celtics prioritized offensive prowess in free agency, targeting Kevin Durant and Al Horford during the first few days of July. The team fell short in its pursuit of Durant, a fact lamented by multiple Celtics players in the months since then, but Horford opted to leave Atlanta for Boston, signing a four-year, maximum-salary contract with the team.
In addition to providing solid defense, Horford has averaged 16.2 PPG over his past four seasons, even flashing an improved three-point shot in 2015/16 — the big man's field goal percentage remained north of 50% last year, despite the fact that he attempted more than three long-distance shots per game.
The Celtics had some solid big men on their roster last season, many of whom will be back this year, but the team's top four scorers were guards or wing players, so the addition of Horford will give the franchise a much-needed frontcourt scoring threat. In an Eastern Conference where there's not necessarily a clear-cut second-best team behind LeBron James and the Cavaliers, signing Horford could give the Celtics the bump they need to claim that No. 2 spot.
Replacing Evan Turner and Jared Sullinger with Brown and Horford will likely represent a net improvement for the Celtics, and continued development from the team's young players should help ensure that the club increases its win total in 2016/17. But, having avoided cashing in his trade chips so far, Ainge will have to decide how much longer he wants to remain patient.
On one hand, there's no rush for the Celtics to make a move. The team has the right to swap first-round picks with the Nets in 2017 in what will be a deep, talented draft, and Brooklyn looks like one of the NBA's worst teams. Boston also owns the Nets' 2018 first-round pick, a potential lottery selection, and could add first-rounders from the Clippers and Grizzlies by 2019. Even without making any trades, the Celtics could continue to be one of the East's top teams for years to come.
Still, with so few legit championship contenders in the East, the conference is one LeBron injury from becoming a free-for-all. And even if the Cavs stay healthy, the Celtics could potentially take a step forward and provide serious competition to Cleveland by adding one more impact player to their deep, talented roster.
The Celtics know they'll be fine if they keep building from within and make the most of their cap room, like they did this summer, so Ainge could continue to wait for the perfect trade offer. However, there's some risk in waiting too long. There are currently six players on first-round rookie contracts on Boston's roster, a figure which doesn't take into account other young second-rounders like Demetrius Jackson or Jordan Mickey, or draft-and-stash prospects like 2016 draftees Guerschon Yabusele and Ante Zizic. With so many young players already in the mix, and more potentially on the way, there simply won't be enough room for all of them in Boston, and if a few of those players toil away on the bench or overseas, there's a risk that their stocks will dip.
When they sent Paul Pierce and Kevin Garnett to Brooklyn several years ago, the Celtics made a move that would pay dividends for years to come, as the Nets bottomed out. But the C's don't necessarily need to "win" every trade they make, like they did with that Brooklyn deal. Rather than waiting for a perfect offer, it might benefit the Celtics to go out and make a move sooner rather than later, to avoid having the value of their assets diminish.
It will be interesting to see whether Ainge pulls the trigger on a major deal in advance of 2017's deadline, but the fact that such a deal didn't occur this summer shouldn't put a damper on the Celtics' offseason. Among our top 10 free agents of 2016, Horford was one of just three to change teams, so it was a major coup by the C's to land him. His arrival will take some of the pressure off of Isaiah Thomas and Avery Bradley on offense, while the addition of Brown will make Boston's roster more dynamic and athletic. The Celtics may not have taken that one extra step needed to become a bona fide championship contender, but they improved their roster, and they still have the pieces in place to attempt that final extra step when the opportunity arises.
Salary information from Basketball Insiders used in the creation of this post. Photo courtesy of USA Today Sports Images.