Over the next several weeks, Hoops Rumors is breaking down the 2016 offseason for all 30 NBA teams, revisiting the summer's free agent signings, trades, draft picks, departures, and more. We'll evaluate each team's moves from the last several months and look ahead to what the 2016/17 season holds for all 30 franchises. Today, we're focusing on the Charlotte Hornets.
Free agent signings:
Camp invitees:
Trades:
Draft picks:
Departing players:
Other offseason news:
---
Check out our salary cap snapshot for the Charlotte Hornets right here.
---
With a regular-season record of 48-34, the 2015/16 Charlotte Hornets had the most successful year of any squad in the current iteration of the franchise. The last Charlotte team to win that many games was led by players like Eddie Jones, David Wesley, Anthony Mason, and Derrick Coleman, way back in 1999/2000, just a couple years before the previous version of the franchise moved to New Orleans.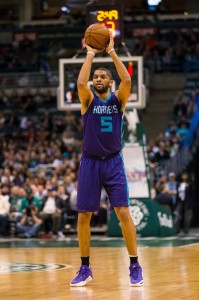 The Hornets still weren't able to get over the hump in the postseason, falling in seven games to the Heat in a tough first round series. Charlotte hasn't made it past the first round of the playoffs since re-entering the NBA as the Bobcats in 2004, but this past spring represented the first time the team avoided a sweep. The season as a whole was a clear sign the Hornets were headed in the right direction, which made it unfortunate that so many of the club's key players were on expiring contracts.
Heading into the offseason, Nicolas Batum, Courtney Lee, Marvin Williams, Jeremy Lin, and Al Jefferson were on track for unrestricted free agency. Those five players were all among Charlotte's top eight in minutes per game in 2015/16, and one of those eight players was Michael Kidd-Gilchrist, who only appeared in seven contests due to shoulder injuries. The other two — Kemba Walker and Cody Zeller — remain under contract, along with Kidd-Gilchrist and Frank Kaminsky, but when the summer began, it appeared the Hornets would look a lot different in 2016/17 than they did last year.
Recognizing as they entered the summer that they couldn't afford to keep all of their free agents, the Hornets prioritized the players they wanted to re-sign and explored less expensive ways to replace the others. That meant honing in on Batum and Williams, two three-and-D wings who were major contributors last season. Neither player is a volume scorer, but they're both capable of making a couple three-pointers per game, chipping in a few rebounds, and playing tough defense.
Batum, the more dynamic player of the two, and the one with the longer track record, got the bigger payday, inking a five-year, $120MM pact to remain in Charlotte. Williams' four-year, $54.5MM deal was more modest, but it still represented an impressive number for a player who was long known as the guy the Hawks drafted instead of Chris Paul.
With Batum and Williams locked up on the wing, Walker manning the point, and big men like Zeller and Kaminsky ready to take on larger roles, the Hornets looked to replace players like Lin, Lee, and Jefferson on the cheap.
While Lin inked a three-year, $36MM contract with the Nets, Charlotte landed Ramon Sessions on a more affordable two-year, $12MM+ pact that features a team option in year two. Sessions is certainly no star, but he's a perfectly capable backup who played behind John Wall in 2015/16, averaging 9.9 PPG and 2.9 APG. He was a more efficient scorer last season than Lin, and should be capable of holding his own as a possible short-term starter if Walker misses any time with injuries.
Like Lin, Lee landed a $12MM annual salary from a rival suitor in July, inking a four-year, $48MM deal with the Knicks. By the time things get serious between Lee and the Knicks, the Hornets had already addressed that hole in their lineup, sending their first-round pick to the Kings in exchange for Marco Belinelli. The deal earned more praise from NBA observers for Sacramento than Charlotte, which was fair — Belinelli's calling card is his three-point shot, but he struggled with his accuracy last season, making a career-low 30.6% of his shots from the outside.
Still, the deal made some sense from the Hornets' perspective. The 22nd overall pick almost never turns into more than a solid role player, so giving it up for Belinelli presented little risk and gave Charlotte a rotation-ready veteran. The 30-year-old will make just under $13MM over the next two years, a very fair price given what many free agent shooters signed for this summer. Additionally, before last season, Belinelli had a career three-point percentage of 39.2%, having never made less than 35.7% in a season, meaning he's a solid candidate for a bounce-back campaign.
Having found a backup point guard and a shooter off the bench for about half the price of what Lin and Lee were making, the Hornets managed to do the same thing at center — rather than re-signing Jefferson to a three-year, $30MM deal like the one he received from the Pacers, Charlotte got a bargain on Roy Hibbert, who will make $5MM on his new one-year contract with the Hornets.
Hibbert looks pretty far removed from his days as an All-Star center in Indiana, but his situation last season in Los Angeles, where he was practically a spectator for Kobe Bryant's farewell tour, didn't give him a chance to show his strengths. Unlike Jefferson, who is a talented scorer but doesn't contribute much on the other end of the floor, Hibbert gives the Hornets a capable defender and rim protector. He's the sort of shot blocker the team didn't have on its roster last season, and his presence will give head coach Steve Clifford a little more flexibility to try different things on defense this year.
After winning 48 games last season, the Hornets were given an over/under of 42.5 wins for this season by offshore oddsmakers, and when we conducted our preseason polls, more than 62% of our respondents voted that Charlotte would end up under 42.5 wins. That's not a surprising assessment. Outside of perhaps Walker, the team has little star power, and the deals signed by Lin, Lee, and Jefferson total more than $100MM — that's a lot of talent to lose.
Still, I disagree with the notion that the Hornets will take a noticeable step backward this season. Charlotte's summer moves seemed designed to keep the team in contention in the short term, rather than to significantly retool with an eye toward the future. The Hornets did well to supplement their core pieces with inexpensive approximations of the complementary players they lost, but guys like Sessions, Belinelli, and Hibbert almost certainly won't become building blocks in Charlotte, and the team gave up its first-round pick. Those moves suggest a win-now approach, and I think the roster is strong enough – and Clifford is a talented enough head coach – that such an approach is viable. I expect to see the Hornets back in the playoffs in the East next spring.
In order to continue improving though, the Hornets will have to count on a strong bounce-back performance from Kidd-Gilchrist, along with major positive development for Kaminsky. Most importantly, they'll need Batum and Williams to deliver on the huge investments the team made in them. As savvy as some of Charlotte's minor offseason additions were, those moves would be overshadowed by a larger-scale misfire if either the Batum or Williams signing goes south.
Salary information from Basketball Insiders used in the creation of this post. Photo courtesy of USA Today Sports Images.