Over the next several weeks, Hoops Rumors will be breaking down the 2016 offseason for all 30 NBA teams, revisiting the summer's free agent signings, trades, draft picks, departures, and more. We'll evaluate each team's moves from the last several months and look ahead to what the 2016/17 season holds for all 30 franchises. Today, we're focusing on the Dallas Mavericks.
Free agent signings:
Camp invitees:
Trades:
Draft picks:
2-46: A.J. Hammons: Signed for three years, $2.606MM. Fully guaranteed.
Departing players:
Other offseason news:
---
Check out our salary cap snapshot for the Dallas Mavericks right here.
---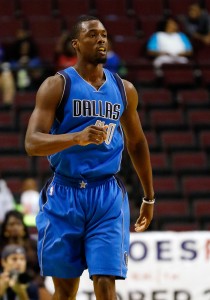 "Always a bridesmaid and never the bride." That classic phrase sums up what the Mavericks' offseasons have become the past few years. In 2013, the team set its sights on Deron Williams and Dwight Howard, a year when both were still highly sought after free agents, only to end up with Monta Ellis. In 2015 the franchise let Tyson Chandler depart (for the second time) and targeted DeAndre Jordan, only to have the big man switch gears and after a bizarre psuedo-standoff at his home, rejoin the Clippers. Instead, the Mavs ended up signing Zaza Pachulia. This past summer, Mark Cuban and company had designs on signing Mike Conley and Hassan Whiteside, but instead ended up with Harrison Barnes. Notice a disturbing trend here?
One could easily argue that the Warriors' signing of Kevin Durant ultimately saved Dallas from having an absolutely disastrous summer. If KD doesn't join the Warriors, Golden State has no reason to let Barnes leave as a free agent or to trade Andrew Bogut, and the Mavs would have been left high and dry as a result of overreaching for players who had no intention of joining the team. While the Bogut acquisition was a solid move for the club, perhaps it may have been better to bottom out for a year rather than fork over the exorbitant contract that the team gave to Barnes.
Dallas essentially chose Barnes over Chandler Parsons, who signed with the Grizzlies this offseason. Given Parsons' injury woes, I don't knock the Mavs for balking at offering him a maximum salary contract, but committing that amount of money to Barnes is just as big of a risk. Barnes has been a solid rotational piece for the Warriors throughout his first four NBA seasons, shooting 37.6% on three-pointers and averaging double-digits in points for his career. However, he was inconsistent in the playoffs this past season, no-showing in some key games down the stretch for Golden State. In the 2016 NBA Finals, Barnes shot just 35.2% from the floor, including 31.0% from three-point range, and many of those misses were uncontested shots. Now he's going to be the focal point of Dallas' rebuilding plan and have the weight of needing to live up to his contract on his shoulders.
If Parsons wasn't worthy of this level of investment, I'm not sure how Barnes is. Granted, his numbers should see an uptick based on increased playing time and coach Rick Carlisle's ability to squeeze production out of his players, but it is extremely unlikely that the 24-year-old will perform to the level his contract. Adding him seems reactionary on the part of Dallas, with the team needing to do something over the summer to try and change up the formula. I like Barnes as a third-option on a playoff team, but not as one of its primary building blocks, which is what earning $22MM-$25MM per season over the course of his contract forces him to be.
As I previously mentioned, I'm a fan of the team's acquisition of Bogut for the low cost of a protected second-rounder in what was a clear salary dump for the Warriors. The 31-year-old is an injury risk, but with just one year remaining on his current deal at the very reasonable rate of $11,027,027 for 2016/17, this one could pay off big for Dallas. The Mavs have had a gaping hole in the middle since Chandler departed, and Bogut's defense, grit and rebounding are all welcome additions. Coupled with the arrival of Barnes, who is a defensive upgrade over Parsons, and a healthy Wesley Matthews, the team should be much improved on that end of the court.
The rest of the Mavs' offseason signings were solid, if unspectacular. Given the lack of options, re-signing Deron Williams for one-year, $9MM was a decent move. Williams is no longer the star player he was during his time with the Jazz, which seems like a lot longer than six seasons ago, but his 2015/16 numbers of 14.1 PPG, 2.9 RPG and 5.8 APG to go along with a shooting line of .414/.344/.869 are worth keeping him around on this low-risk pact. However, I'm not as bullish on re-signing Dwight Powell to a four-year, $37.27MM deal. Giving that level of commitment to a player who has been as inconsistent as Powell has been is a risky move that could hamper the team in future offseasons. The 25-year-old has struggled to remain healthy during his brief time in the league and he doesn't quite fit the mold of where the league is headed regarding how big men are utilized.
One signing that I am excited about for the Mavericks is the addition of Seth Curry, whose two-year, $5.93MM could turn out to be an absolute steal for the team. Curry has looked very sharp thus far in the preseason, averaging  12.8 PPG, 2.3 RPG and 1.5 APG while connecting on 53.3% of his shots from beyond the arc. While he's never likely going to approach the skill level of his brother Stephen Curry,, the younger Curry has a legitimate shot under Carlisle to be a Sixth Man of the Year candidate. Dallas should focus more on adding undervalued players who can have breakout seasons, rather than chasing the "big fish" every offseason without having a legitimate chance of landing them.
Perhaps the best move the Mavericks made this offseason was re-signing Dirk Nowitzki to a two-year, $50MM deal. The franchise finally did right by the big German, upping the initial deal by $10MM when it became clear that the money wasn't going to other players. Nowitzki has been the textbook example of unselfish, taking far less than market rate on his past two contracts in order to give the team flexibility to add players around him. Besides rewarding his loyalty, Dallas avoided having its longtime franchise player depart over a lowball offer the way Dwyane Wade ended his tenure in Miami this summer. Kudos to Cuban on the move, its just unfortunate that Nowitzki will likely end his career without having a legitimate shot at winning another NBA title.
After what turned out to be another disappointing summer for the team and its fans, the Mavs enter the new season as an unknown quantity. The team will likely struggle to equal its 42 wins from a season ago and it will take a number of players meeting and exceeding expectations for the club to reach the postseason again. The only true positive I can offer is that Dallas at least has a higher ceiling than it did last year, with the defense likely to be improved and some new blood on the roster. If Barnes can come close to living up to his contract, the Mavs could surprise. But that is a tall order, especially if the young forward succumbs to the pressure of silencing his critics. Hopefully, the franchise will enter next offseason with a more realistic shopping list, which could help it avoid having to play catch-up like it has the past few summers.
Salary information from Basketball Insiders used in the creation of this post. Photo courtesy of USA Today Sports Images.