Over the next several weeks, Hoops Rumors will be breaking down the 2016 offseason for all 30 NBA teams, revisiting the summer's free agent signings, trades, draft picks, departures, and more. We'll evaluate each team's moves from the last several months and look ahead to what the 2016/17 season holds for all 30 franchises. Today, we're focusing on the Detroit Pistons.
Free agent signings:
Camp invitees:
Trades:
Draft picks:
1-18: Henry Ellenson. Signed to rookie contract.
2-49: Michael Gbinije. Signed for three years, $2.606MM. Second year partially guaranteed. Third year non-guaranteed.
Departing players:
Other offseason news:
---
Check out our salary cap snapshot for the Detroit Pistons right here.
---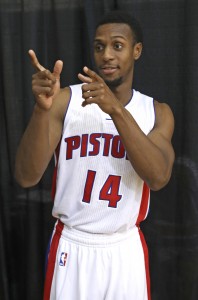 When Stan Van Gundy evaluated the Pistons organization after becoming their head coach and president of basketball operations, one of his first orders of business was to beef up the scouting staff. That wasn't limited to college and international scouting. He wanted scouts closely monitoring every NBA game and identifying players who could fill a need on his club.
That decision has led to a nearly complete overhaul of the roster, with only two players — center Andre Drummond and starting guard Kentavious Caldwell-Pope — surviving the purge. They added two starters during the last two trade deadlines, acquiring point guard Reggie Jackson from the Thunder and combo forward Tobias Harris from the Magic.
Armed with the evaluations from their scouts, Van Gundy and GM Jeff Bower drew up a shopping list this offseason that included three major items. They wanted a bigger power forward, a backup point guard and a third center who could eventually play a larger role.
Ideally, they would have checked off boxes 1 and 3 with the same player. They were one of a handful of clubs who landed a meeting with coveted free agent Al Horford. The Pistons felt Horford's defensive versatility and shooting range would complement Drummond's interior prowess. Alas, Horford opted to go to a club he felt was closer to championship contender and signed with the Celtics.
In the meantime, the Pistons quickly landed one of the point men they coveted in Ish Smith. He was one of three point guards, along with former Piston D.J. Augustin and Ramon Sessions, on the wish list. Detroit's offense stalled the second half of last season when aging Steve Blake entered the game for Jackson. The Pistons included Brandon Jennings in the Harris deal, leaving them thin at point guard.
According to the Pistons' analytics, Smith is one of the top pick-and-roll point guards in the league. Detroit relies heavily on pick-and-rolls, making him an ideal backup to Jackson. Smith will have an even bigger role at the start of the season, replacing Jackson in the lineup while Jackson recovers from knee tendinitis and a thumb injury.
"What you want with all of your backups, one of the things you ask is can those guys start," Van Gundy said. "You can't look at somebody and say he's OK as a 16-, 18-minute a game guy because it can quickly become more than that. The fact he has that experience and did well (with the Sixers last season), yeah, that's a big thing."
The Pistons surprised some people by handing journeymen Jon Leuer a rich four-year, $41MM deal but they view him as a rotation player who can back up Harris and also play center in smaller lineups. Leuer not only provides more size that last year's backup, Anthony Tolliver, he's also more brings more offensive versatility than Tolliver, who was mainly a 3-point shooter.
When Horford struck the Pistons off his list, the deal with Leuer was finalized.
"Once Al made his decision, it was, 'OK, let's figure out how we can get this done,' " Leuer said. "We actually came to an agreement before he even landed, so it was more of a celebratory lunch than a meeting."
Detroit went big, really big, to secure the final item on their shopping list. They structured a three-year offer sheet to restricted free agent Boban Marjanovic that they knew the Spurs would almost certainly not match. The 7'3" Marjanovic doesn't have the agility defensively to play heavy minutes but can be a matchup nightmare for opponents because of his low-post skills. He also provides insurance in case second-string center Aron Baynes opts out of his contract after this season.
Another under-the-radar signing that could pay some dividends was handing Ray McCallum a non-guaranteed contract. McCallum could back up Smith the first month of the season if he wins a preseason battle with fellow point man Lorenzo Brown for a roster spot.
Prior to all those moves, the Pistons were pleased how the draft unfolded. Outside the lottery for a change, the Pistons weren't expecting to get an immediate contributor at pick No. 18. They did get a pleasant surprise when power forward Henry Ellenson fell into their lap.
Van Gundy was so sure that Ellenson wouldn't be available at their pick that he barely watched any film on the Marquette University product. The Big East Rookie of the Year will spend this season developing but could push for a rotation spot as early as next season.
The only other order of business this preseason is whether to sign Caldwell-Pope to a rookie-scale extension. There has been no signs in camp thus far that they're close to an agreement.
If the Pistons had somehow convinced Horford to come their way, they could have been lumped among the next tier of Eastern Conference teams behind the Cavaliers. With the help of those scouts, the Pistons did add much-needed depth by signing some unheralded free agents. Whether that's enough to get them past the first round of the playoffs this season remains a big question mark.
Salary information from Basketball Insiders used in the creation of this post. Photo courtesy of Raj Mehta (USA Today Sports Images).